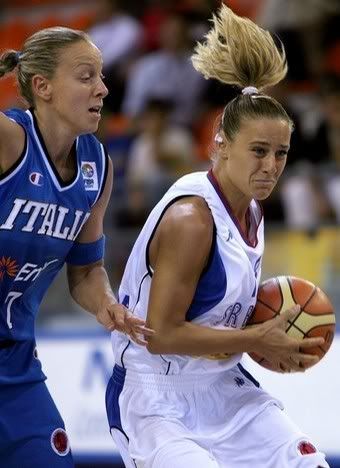 Good night for the Leafs, giving a good show before losing ... do the Raptors realize

John Tavares

doesn't play basketball (well, not yet)? ... here's an imagined celebrity roast of

Tony Dungy

. On with the dumb jokes ....
Toronto organizers
will soon announce
where events would be held if the city lands the 2015 Pan Am Games.
Nowhere
would be a good answer.
Two rules for the fratboy corner of the blogeteriat. You're not allowed to link to a picture of a female athlete, such as Serbian lady baller
Milica Dabović
(pictured)
, who's
posed unclad for FHM magazine
, unless you've heard of her or start following her sport. It's for your own good.
Tampa Bay Lightning co-owner
Oren Koules
, when he was a junior hockey player, was on the Spokane WHL team when it folded. It was good preparation for his stint as a NHL owner. The fruit doesn't fall far from the clueless tree.
(That was actually gleaned from a pretty good interview with Team 1200 personality

Glenn Kulka

.)

George Costanza himself,

Jason Alexander

, is shilling for the same poker website as

Mats Sundin

. It makes sense, since Sundin has been playing like he's trying to get fired.

This post is worth nothing, but this is worth noting

He's still

Rick Reilly

, once in a while. The former

S.I.

scribe's column on

Larry Fitzgerald Sr.

, the sportswriter dad of the Arizona Cardinals receiver, is a good read.
Please spare a thought for former Canadiens, Leafs and Hull Olympiques coach Pat Burns in his cancer fight.

A tip of the cap is due to the pride of Odessa,

Aaron Doornekamp

, and his Carleton Ravens teammates for being honoured at last night's Ottawa Sports Awards. Veteran basketball coach

John Scobie

was also honoured, which is a long time coming. (Three guesses if yours truly warranted an invitation, the first two don't count.)

The Ravens have a RMC/Queen's road trip this weekend, so the Kingston

Whig-Standard

should have some coverage of the Kingston trio of Doornekamp,

Rob Saunders

and

Stu Turnbull

.

That's all for now. It's

oolf.writers(at)gmail.com

.