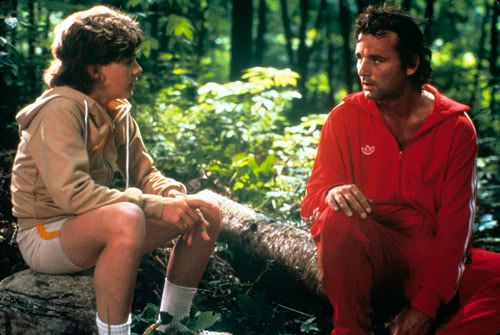 The challenges we face are real. They are serious and they are many, but if teams called the Bears and Vikings can combine forces, then we can find common ground and prevail. Let us remember these timeless words: "It just doesn't matter! It just doesn't matter..."
... how much some media folk got carried away with Inauguration Day, save for a certain national newspaper
losing its mind
with its
Jarome Iginla
/
Barack Obama
"Separated at birth?" headline. Laugh it off, regardless of how you swing politically. You shouldn't be riled up over media outlets who demand to be taken seriously yet
commit lines to print such as
, "Obama isn't the first black politician, either." Thanks, Tips!
Then there was one
self-described stereotypical Canadian
claiming that we
translate everything to hockey
: " 'It's like it was a high school team getting beaten around for eight years. Now we got our Gretzky and it's time to go out and kick some (expletive).' "
That might not be the best analogy for an Obama fan, considering the Phoenix Coyotes'
finances
. Leave awesome enough alone, people.
The chanting has picked up: "It just doesn't matter! It's just doesn't matter!" ...
... that ESPN's erudite
Jon Miller
will now be tag-teamed on baseball broadcasts
by
Joe Morgan
and
Steve Phillips
. Do former ESPN staffers own stock in
Delay Play Radio
?
... that the Vancouver Canucks'
Henrik
and
Daniel Sedin
have become the highest-scoring twins in NHL history. It's a useless record (how many sets of twins have played in the NHL?), plus Canucks fans are worried more about the lack of scoring by the Sedins' Swedish grandfather.
(Seriously, congrats to the Sedins. Each of them earned an assist last night, but typical of the Canucks, it came on the same goal in a 2-1 loss. It was against San Jose, granted.

Jamie Baker

, who does colour for the Sharks' broadcasts, accused Vancouver of not even trying to score in the third period.)

... what happens at the NHL All-Star weekend. Having in on the weekend in between the conference championships games and the Super Bowl might violate the Geneva Convention, though.

... that USC coach

Pete Carroll

is upset his quarterback,

Mark Sanchez

, is entering the NFL draft. Returning to USC for his senior season worked out so well for

Matt Leinart

— he's a Super Bowl quarterback, of sorts.

This post is worth nothing, but this is worth noting:

Claude Lemieux

's stat line from his first game back in the NHL: Seven minutes and eight seconds of ice time, three shots on goal, no bite marks. Good on him.
The Milwaukee Bucks'

Luc Richard Mbah a Moute

is a great defender, and he's actually helped someone's NBA fantasy league team put two wins together (raising its record, sadly, to 2-10).
Ottawa biathlete

Alexandre Dumond

, who takes kinesiology at Queen's, had a tough break, though not literally, at the world junior championship out in Alberta. He slipped on some ice and hurt his knee. Wish him well in his recovery.
Lastly, a random

How I Meet Your Mother

quote that pretty much describes this post: "Barney, for anyone else this would be a new low, but sadly for you, it's just a new middle."