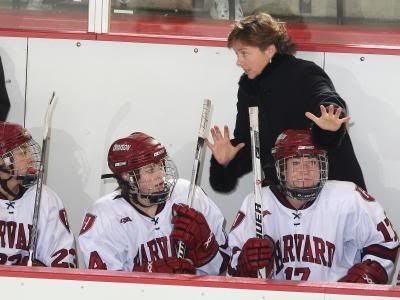 The endless debate about
women's teams having male coaches
is being played out with the U.S. Olympic team.
Canada has had at a woman behind the bench at the past three Olympiads (
Melody Davidson
in Turin,
Danièle Sauvageau
in Salt Lake City and
Shannon Miller
in Nagano in 1998). Team USA had a man, Ben Smith, behind the bench all three times. However,
there's a chance that will change
in Vancouver: Two front-runners, Harvard's
Katey Stone
(pictured) and Ohio State's
Jackie Barto
, are female.
The other, though, is
Mark Johnson
, who was on the 1980 Miracle on Ice team, which still has some cachet in U.S. hockey circles.
Johnson would be a sentimental choice to coach, especially since he's the son of the late

"Badger" Bob Johnson

, whose impact on U.S. hockey is right alongside that of

Herb Brooks

. Mark Johnson coaches the women's team at the University of Wisconsin, where he once played for his father before going on to be a star in the Olympics playing for his daddy's rival, Brooks. It is an obvious storyline. The director of the national women's team is female, so would she try to balance the ticket in order to avoid a backlash?

Stone coached Team USA to the gold medal at the Four Nations Cup in November. Barto guided the Yanks to victory at the worlds last spring in Harbin, China. Johnson, for his part, guided the U.S. to the gold at the women's world under-18 in Germany earlier this month.

It is odd how Hockey Canada, since women's hockey became an Olympic sport, has typically had a female coach (

Peter Smith

, skipper of the defending CIS champion McGill Martlets, had the top job for a while but has been assistant lately). Over the same span, USA Hockey has always gone with a man.

This has come in an era where, as

Time

reported a year and a half ago, the percentage of women's college teams in the U.S. with a female head coach is at an all-time low, which is fraught with potential problems. It cannot be reduced to a glib interpretaton, but it's like once women's sports proved viable and started getting support from corporations and universities, suddenly male coaches were interested.

The athletes themselves would no doubt say they want a coach who gives them the best chance of winning. That might be the most practical view. On an academic level, it is a concern if a disproportionately low number of women in coaching are getting a shot at being a head coach.

There is also some mild sexism in citing Mark Johnson's status as a legacy (

Pat Borzi

's word). Female athletes and coaches, especially in women's hockey, which is still in its nascence, aren't always able to play up a family tie, or trade off the family name. Johnson has the coaching chops, having guided Wisconsin to the NCAA championship in 2006 and '07 (Kanata native

Jasmine Giles

was on the second title team). It would not be wrong if he gets the nod, but please keep in mind he doesn't have the same encumberances as at least two women who are eminently qualified.

Related:
Olympic hockey decision could have ripple effects for U's Frost (Pat Borzi,

MinnPost.com

)