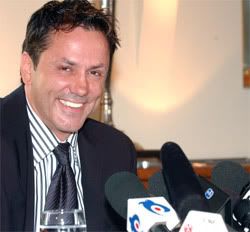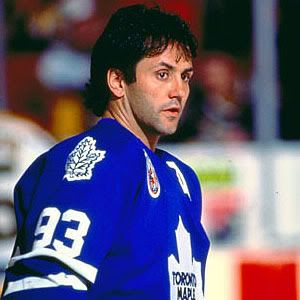 The analogies with
Doug Gilmour
fall short, just like the Leafs have so often.
The best stab at fighting through any ambivalence on
the eve of Gilmour's big night in Toronto
, is that for two years, 1993 and '94, he embodied something that courses through Canadians on a chromosomal level. Plain and simple, he was embodied by what he didn't have, which is like next to godliness in the Great White North, eh.
There's a passage in
Roy MacGregor
's cult hockey novel (hacky to be quoting, true),
The Last Season
, which better explains why "great and being loved can be two different things" in sports, hockey in particular (assist to
Cox Bloc
). A small-town hockey coach,
Ted "Sugar" Bowles
, closes a pregame pep talk to the protagonist's team,
"What makes a shark truly unusual is what he doesn't have. And that's a swim bladder ... A shark has to keep moving constantly. A shark does not float, like other fish. He has no swim bladder, see. He can't let up for a minute and that's what makes him top dog."
Gilmour, in 1993 and '94, was our shark. Either you got him or you never could. It's just like how five of Kingston's other favourite sons, the
Tragically Hip
, are rock gods in Canada but have seldom charted in the United States. Both were too particular to their time and place to translate very well.
He had to keep moving. In the end, that gets a player more attention than those who have the supple arrogance of grace, which is what doomed

Mats Sundin

to being Tall Poppy Syndromed. There were better playmakers in the NHL during Gilmour's prime years, such as

Adam Oates

, or

Pat

La-La-

Lafontaine

. There were comparable good undersized players, such as

Theo Fleury

. For two-way centremen,

Steve Yzerman

and his three rings come to mind.

None of them stretch across 1993 to 2009 like Gilmour, now the Manchurian Coach of the Kingston Frontenacs.

Please keep in mind it was the Leafs, post-

Harold Ballard

and pre-Ontario Teachers Pension Plan. Down in Kingston, where ol' Pal Hal had been in the clinker for a couple years in the '70s (he was in Bath Institution, next door to the "Millhaven maximum security" that the Hip mention in the first verse of

38 Years Old

), there were boys and girls willing to cheer for the dismal Leafs, instead of the still majestic Montreal Canadiens or the Edmonton Oilers.

There was no pinpointing the low point. My best friend

Neil Acharya

often talks of the day in 1988 when

Mark Potter

, the sports anchor at CKWS, led off with, "You'll never believe what the Leafs have done this time," alluding to the infamous

Russ Courtnall

-for-

John Kordic

trade. There is an argument it might have been a good deal for the Leafs.

In '89,

Floyd (Trader) Smith

dealt away the draft choice which the New Jersey Devils used to draft

Scott Niedermayer

. Ballard died in '90. In '91, Cliff Fletcher came in as GM. In the early hours of '92, Fletcher made The Trade to get Gilmour.



Go ahead and laugh, but the Game 7 overtime win over the Red Wings in the first round in 1993 was, wait for it, legendary. They could have played that series 10 times and the Red Wings, with Yzerman,

Paul Coffey

and

Sergei Fedorov

, would have won eight or nine times.

Bob Cole

's sum-up at the unlikelihood of it all, "I am going to talk to Cliff Fletcher and

Pat Burns

and I am going to ask them to pick my numbers for the lotto next week," still raises chill bumps.



It is pretty easy to see Gilmour and look back at '93 and get bogged down in bathos. It could never be so linear at age 16. You're such a jumble of hormones, half-thoughts and trying not to get your ass kicked just for living. (Aside: That's different from being 32

how?

Well, the ass-kickings only come in the figurative sense.)

It was a pretty good place for an average guy to start self-medicating with sports, music and such. Kingston's Doug Gilmour had the year of his life leading the Leafs sadistically close to the Stanley Cup final. The Hip — there was a young, hockey-haired

Gord Downie

in a team picture from 1978-79, the goalie on the far left of the front row, hanging at Henderson Arena in Amherstview — had just come out with

Fully Completely

. The Blue Jays were on their way to back-to-back World Series championships in baseball; Queen's had won the Vanier Cup in football. After

Wayne Gretzky

's high stick-

Kerry Fraser

's no call-

Dave Ellett

's skate happened, the hockey gods came through with a makeup call. Another good Kingston boy,

Kirk Muller

, scored the Stanley Cup-winner for the Montreal Canadiens a couple weeks later.

Doug Gilmour was defining, no two ways about it. He was a smart player and he had the look, the one that landed him the nickname Killer. He'd worked for everything, from making it to the NHL after being a seventh-round pick to playing his way on to Team Canada in '87. He made hockey seem a little closer just as it drifting away from people in heartland Canadian towns (remember, the year of Gilmour was also Year 1 of

Gary Bettman

). Maybe it is like seeing your high school yearbook photo, especially when you see the clips from

Don Cherry

's

Rock 'Em Sock 'Em

videos, but there's no deniability.



Sixteen years later, it might be just random accessed memories. It is no more important nor more interesting than the Winnipeg Jets of the '70s or the 1982 Vancouver Canucks are to people who grew up in another time or place. There is still the burn every Leafs fan has to live with, knowing his best was not enough to silence the "Sixty-seven!" chants.

For me at least, it is complicated further since, as a rookie coach, Gilmour is now of an embarrassing gong show being perpetrated by

Doug Springer

, owner of the Kingston Frontenacs. The joke making the rounds is that Gilmour, can no longer be called Killer. That nickname belongs to

Brian Kilrea

in Ottawa.

There is a symmetry to Gilmour's foray into coaching. Say whatever you want about him as a coach (and people have), but like a lot of ex-jocks, he's just trying to figure out where he fits in, like everyone else. It makes him one of us, OK sure he has a lot more money, but Saturday we will be applauding one of our own.

Related:
Getting a lift; He may not be a distinguished coach just yet, but Doug Gilmour the player is that and more (Michael Traikos,

National Post

)