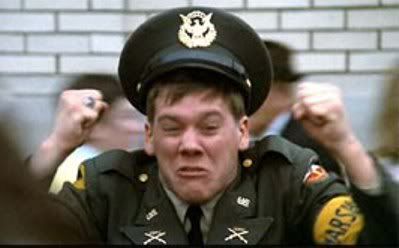 Google "Gary Bettman" and "Chip Diller" and you only get one match. That has to change.
The NHL commissioner really is the Omega House pledge from
National Lampoon's Animal House
, 30 years older, screaming "Remain calm! All is well!" as everything degenerates into a gong show.
Bettman as Diller has to stick.
Doug Farraway
on The FAN 590 had a guest this afternoon, a writer from
Forbes
magazine this afternoon, say flat-out that hockey is the sport that stands to be hit the hardest by the global economic slowdown.
Bettman, as one writer surmised yesterday, is basically carrying on like all the sponsors have paid up for this season, so there's no problem.

None of you need any reminder what pro sports is in for now that the golden age is over.

Sorry for not getting the

Forbes

writer's name. He was on just before Farraway interviewed a gentleman who just published a children's book about

Wendel Clark

, and frankly, that was more within my range of understanding.

Seriously, Bettman is Chip Diller.

Related:
The Financial Golden Age of Sports 1996 – 2008 (David Houle,

Evolution Shift

)