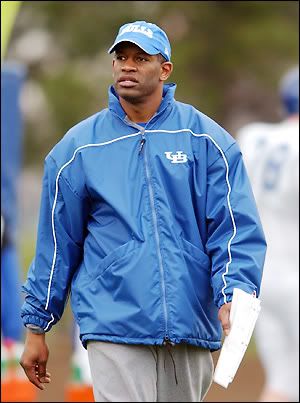 Here's one for the too-funny-by-half files: The Buffalo
Bulls
are
projected
to
play in the International Bowl
at Rogers Centre next month.
This means Rogers will struggle to sell out the stadium for a another football game involving a Buffalo team with a fair-to-middling record.
The NFL Bills are 6-6 coming into Sunday's game vs. the Miami Dolphins. The Bulls, with ex-CFL QBs
Turner Gill
(pictured)
and
Danny Barrett
as head coach and quarterbacks coach, respectively are 7-5, going in as
heavy underdogs
vs. Ball State in tonight's Mid-American Conference championship game. (Ball State is 12-0 and has an all-everything quarterback named
Nate Davis
, for anyone who hasn't watched proud alumnus
David Letterman
any time in the past few weeks, or read
Jason Whitlock
's
epic takedown
of the BCS and ESPN.)
This is going to come off shenanigans from a second guesser. Buffalo was on the shortlist of potential NCAA football teams for
OOLF
to clasp to its bosom
(about that, seriously, Sager, join a gym)
. It was one hell of a post, but it just never progressed past the conceptual stage to the get-off-your-lazy-ass-and-write it stage.
Part of the problem was the content had to wag the lede dog a bit. The first line was something like, "If this were written like a Lavalife ad, it would say, 'must be able to read Proust and a Tampa Two defence.' "

(To quote an older colleague: "Oh, you still don't think you're going to marry someone smarter than you, do you?")

It had got to the point where it seemed odd to have followed a brand of football for 20 years, getting caught up in the internecine hatred between rival teams, who's-No. 1 debates, Heisman hype, and BCS boondoggles without cheering for a specific team, or ever attending a game. Talk about geek love. But how could you have any moral high ground for razzing Notre Dame fans when you don't even have a team?

Plus, some big-time U.S. sportswriters -- Bill Simmons, Joe Posnanski -- during the past couple years have put out the call to readers to help them pick a soccer team to support. Poz, bless him, said for him it was about wanting to "feel international."

With all apologies to those better, more popular writers, how about actually being international? Supporting the Manchester I-Don't-Give-A-Craps or the London Not-A-Real-Sports does not make one any more worldly -- fact.

Clamouring to have a favourite college football team seemed a perfect protest of the weak. Everyone else wants feel international? I'll be parochial. This is the sporting analogue of Stewie Griffin hearing a banjo and exclaiming, "Mommy, I want a mullet."

Of course, this could never be as simple as picking one of the old-money powerhouses, or even an arriviste team such as Texas Tech. You can't pick a school such as Alabama or Southern California, not with what's known about the serfs of the turf.

A favourite college football team would have to represent a school with a modicum of academic integrity. That condition knocks off the whole Southeastern Conference except Vanderbilt. It would have to be a team which can compete for a championship of some kind on a regular basis. So much for Vanderbilt.

On and on it went over this season, following the "brain" schools every week to see how they fared. Northwestern is 9-3, but they're out for being in the Big Ten, which has ceased to be big or ten.

The same goes for the Minnesota Golden Gophers, who are in their first season with a new coaching staff, also held appeal (especially since the Vikings might end up being their co-tenants yet). Minnesota's coach, Tim Brewster, is also a big proponent of helping create opportunities for African-American coaches; he has more black assistant coaches than any other team in the country. Minnesota could also be struck for playing in a border state -- if Syracuse, Washington and Washington State's woes have taught us nothing, it's that the population demographics in the U.S. augur poorly for major-college teams in northern states.

The search went far and wide, even dipping down to the Football Championship Subdivision. How about Villanova, or Montana? A couple of Conference USA schools, Rice and Tulsa, which have Ottawa natives Tyler Holmes and Scott Mitchell as their starting left tackles, have also been on the radar screen. They both play wide-open football, are academically prestigious, but C-USA teams very rarely have their games beamed into Canada, which would make it tough, sorry, fellas.

Anyway, Buffalo had a lot of desirable qualities. As a MAC school, they'll never get anywhere near a BCS game. If this season's Ball State team can't, who can? That doesn't mean they're not worthy. Elliott Smith didn't need to have his songs on the Billboard Top 20, right?

The Bulls seemed like an appealing underdog team. Until last season, they had averaged about two wins a season since joining the NCAA's top division in 1999. As noted, their coach, Gill, used to play in the CFL. They even had a QB with two first names in senior Drew Willy.

Besides, if Toronto interests, or any interests, are going to steal Buffalo's NFL team, one should adopt the Bulls in solidarity with Western New York football fans. It's only right.

Anyway, to sum up, that post never got written, but all you are probably better off. Buffalo is also going to the International Bowl, and one wouldn't want to do it disservice by not promoting the hell out of it.

(Yours truly is spoken for in NCAA hoops but it was noted that the UB basketball team only lost by four against the No. 2 UConn Huskies last night. Carleton beat Buffalo by 10 back in August, by the way.)