You don't get many
Matt Stairs
moments in life.
There's the strength of the American League East for ya -- Canada's own stubby slugger, who was traded out of the division in August,
struck the blow
that should decide the National League pennant.
It was quite something to have it slowly become apparently that Stairs, the balding, baseball-loving, beer-drinking Canadian's pride and joy, was probably going to get called upon to pinch-hit for the Philadelphia Phillie last night -- on Thanskgiving Day in his home country, no less. First of all, L.A. Dodgers manager
Joe Torre
's
interesting course of action
with his pitchers and a
inning-ending double play
turned by
Chase Utley
helped keep close. Coincidentally, Utley made that unassisted DP to end the L.A. sixth on a live drive scorched by the more ballyhooed Canadian in this series,
Russell Martin
. Odd how that worked out.
Secondly, Phillies manager Charlie Manuel burned his best lefty pinch-hitting option, Geoff Jenkins, when Torre countered by going to a lefty reliever in the sixth inning. (Greg Dobbs, the Phillies' best pinch-hitter, had started the game against a right-handed starter.) That left Stairs as the only viable option left on the Phillies bench. You know the rest of the story.

Gentlemen such as Jeff Blair and Bob Elliott can probably speak to where this ranks among post-season moments for Canadian ballplayers. Ron Taylor throwing four hitless innings to help the St. Louis Cardinals hold off the New York Yankees in Game 4 of the 1964 World Series probably remains No. 1. Jeff Francis starting the first game of the World Series last year at Fenway Park was pretty special, even though his Colorado Rockies were brought down to earth pretty quickly by the Boston Red Sox.

There isn't much else to say on this end about the NLCS. The Phillies, thanks to the decisive blows from a Maritimer and a Hawaiian, Shane Victorino (glove tap: Big League Stew) get a day off to rest up their pitching staff. Ace left-hander Cole Hamels starts in Game 5 on Wednesday vs. the Dodgers' sinistrophobic lineup. Teams have come back from being down 3-1 in a series, but that's a hell of a hammer blow to recover from.

Not to get too flowery about it, but that's one great thing about baseball. It hands those decisive moments to anyone, even 5-foot-9, 215-pound Matt Stairs. He delivered. How awesome is that?

Method to the Maddon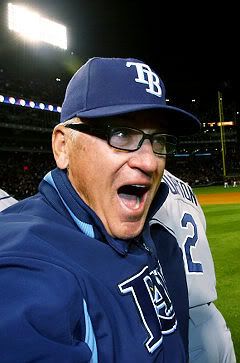 The Rays-Red Sox series turned (for at least 24 hours) in the second inning when Matt Garza struck out Jason Varitek with runners on second and third and one out, then got out of the inning unscathed.
That came an inning before B.J. Upton bstarted the Rays toward a 9-1 rout with with a three-run homer off Jon Lester that cleared Kenmore Avenue. The Varitek punchout is actually a jumping-off point for how this series has played out through three games.

It all comes back to adaptability, the idea of only having sacred cows if they're useful. The John Henry-Theo Esptein Red Sox had that trait in spades; that is part of why they were able to throw out eighty-six years of Beantown baggage. They shrewdly sized up the expendability of Nomar Garciaparra in mid-2004, and subsequently did the same with Pedro Martinez, Kevin Millar, Johnny Damon and most recently, Manny Ramirez). They might pull this series out yet, but being steadfast with Varitek, who has become sub-useless with the stick (he's been dubbed "Captain Choke" -- talk about sic transit gloria) cost them big-time.

Meantime, who seems more adaptable than the Rays under manager Joe Maddon, who's become the sportswriters' darling during these playoffs? Anything written about this series should be prefaced by saying there is a randomness to playoff baseball. It's always possible that why one team wins and why one does not is as simple as who's got the hottest hitters, so you have to take it with a grain of salt when the media are calling one guy a genius and the other a colossal dunderhead. Jacoby Ellsbury and David Ortiz are each batting .000 for the Red Sox, so that could be one explanation for why they're trailing.

Anyway, Maddon has kind have been out front as a figure of interest during these playoffs. Speaking as a Jays fan who grew accustomed to John Gibbons' pace over 3½ seasons, the guy in the Devil Rays dugout with the emo glasses and professioral vibe certainly seemed intriguing. Maddon is not the first manager who had to play up that side since he never played the game at the highest level. He just seems to embody explain-the-world quotes that are easy to latch on to and store away for future reference.
"Look, I'm 54, but you have to remain contemporary in your thinking. I don't agree that you have to accept and say, 'This is who I am and I can't go any further, and I can't relate to the next group of guys coming up.' I think that's wrong." -- ESPN.com
Man, wouldn't you like to work for someone like that?

Maddon was probably just as interesting when the Rays were 66-96 in 2007, but editors don't let their columnists write full-length features about losing, and people don't want read about cerebral losers (that's more for pop songs). The Rays could have all the philosophizing in the world and it wouldn't make a difference if they weren't very good at baseball. At the same time, a ballclub does somewhat take on the personality of the highers-up.

What people are likely to forget about today is that Jon Lester looked like he had great stuff at Fenway, where he never loses. He needed only four pitches in the first inning. The Rays adapted, though, and he ended throwing 21 in the second. Evan Longoria, the brilliant rookie, though, cadged a seven-pitch leadoff walk to start the second and ended up scoring the first run. The third inning, Lester got tagged for the three-run homer and before long, Boston's ace was reduced to an innings-eater.

It's not so simple as Maddon telling Longoria to work a walk. He's a smart enough player to figure that out for himself. The Rays are showing that they can be flexible and get rid of any fixed notions, which a long way goes toward explaining their success. Buck Martinez, who's commentating the series for TBS, had a great take on the Maddon Rays in the above-linked ESPN.com article:
"People say, 'Aw, he's trying to reinvent the game,' and I say 'Yes, he is.' " Of course he is, because that's what you have to do over there. They have new uniforms, new attitude, new everything. It is a total cultural revolution because they've never had a culture of winning. That's what he's trying to do, and it's absolutely appropriate."
(As a sidebar, it's great to have the TBS crew with Buck on the call of this series instead of FOX Sports' pair of Smug and Smugger, Joe Buck and Tim McCarver. You wouldn't getting such a big window into Joe Maddon's approach to running a baseball team.)

Tampa Bay is new to winning, so it's not in a position where it has to make tough-but-fair calls on a veteran such as Varitek, who seems to be on borrowed time as a hitter after catching at least 125 games, not counting playoffs, in nine of the past 10 seasons. The point is that Red Sox got to the top by not being slavish to orthodoxy; they've got away from that with Varitek, AKA Captain Choke. The Rays are being truer to themselves and as a byproduct, are one win closer to the World Series.

Other business:


The way the cable sports networks put together highlights of a baseball game for their nightly recaps has no more to do with baseball than Grey Anatomy's has to do with medicine.

ShysterBall has some thoughts on where MLBTV, which debuts New Year's Day, might want to go with its studio analysis. This is coming in the wake of a Slate piece which ponders, "Why is there more intelligence on display in a week of football shows than in a year of Baseball Tonight?"

The way the cable sports networks recap a ball game is passes. You show a couple of the important hits, a couple slick fielding plays, maybe a strikeout or two if the pitcher threw a good game. Typically, though, people have already seen the final score on the Internet or on the network's ticket. It would be far better to recap a game in a way that tells you what is was like, or why something happened the way it did.

Hockey analysis is getting to the point in Canada (the networks can justify the expense), but baseball lags way behind.
The Tao made note that John Gibbons might have a new job.
It figures that Rogers Sportsnet would have jamiecampbell mull over the benches clearing in Game 3 of the NLCS instead of putting the focus on the game. Violence sells. One would expect nothing less from a network that has close ties with the Ultimate Fighting Championship.
In honour of Columbus Day, Hugging Harold Reynolds has an all-star team of the ballplayers who have done the most "to perpetuate Italian-American stereotypes." This admitted mungy cake was amused.

Ex-Jay Sal Fasano did make the squad, no worries.
The worst post-season start ever belongs to ex-Jay Todd Stottlemyre. It is not Game 4 of the 1993 World Series, the 15-14 game.
According to one Philly columnist, actress Aimee Teegarden from Friday Night Lights was at Dodger Stadium. Isn't Julie Taylor supposed to hate sports?
Apologies for not being daily with the Zen Dayley, but all of you know what happened in the games, right? Besides, it was a holiday weekend.