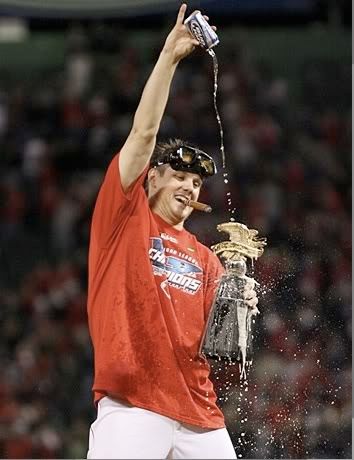 Here's a dozen randomly cherry-picked items about the real World Series American League championship series between the Boston Red Sox and Tampa Bay Rays, which opens Friday.
One cockamamie theory you should dismiss out of hand

The Red Sox weren't really built to win this year, but still won 95 games just because they're that good. Still, one wonders what they have to play for.

Most of the key guys are either youngsters who will have many post-season games in their futures (Kevin Youkilis, possible American League MVP Dustin Pedroia, shortstop Jed Lowrie, et al.) and the few holdovers from the Idiots of 2004, Jason Varitek and David Ortiz, have their rings already.

There might not be a lot of there there once you get past the Red Sox's formidable reputation and their starting pitching. The Red Sox will be near the top from here to eternity, but the games are still played on the field.
Where strip-mining Google Images to show one's personal bias happens

See what we did there with the photo selection? It basically implies that the Red Sox, as personified by their closer Jonathan Papelbon, are the jerk from every high school comedy who always gets his just desserts in the final 15 minutes. The Red Sox are an outstanding organization and running

The Rays and Evan Longoria are a bunch of nice guys who are only tough in the face of a tough job. They're good enough, they're smart enough and doggone it, people have liked them for all of six weeks.


Respect the roar

Here's the big bring-it-home with regard to Tropicana Field, which used to be as quiet as a suburban mall at 10 a.m. Tuesday morning. Dave Wills, the Rays radio voice, told the Southtown (Ill.) Star that the stadium's decibel level is reminiscent "of the old Chicago Stadium.

"I remember the roar. I know that our manager, Joe Maddon, no longer shouts instructions to fielders. He gives the defensive signals by hand."

If you need further convincing of Tampa Bay-St. Pete's commitment to baseball, a spa down there is offering something called a Rayhawk bikini wax. Ouch! Remember the roar, indeed.

(Glove tap to Deuce of Davenport.)

Seriously, though, the Red Sox are used to intense environments. You could argue that perhaps they will play better in Tampa than they did when it was half-empty during the regular season.


Jason Bay is not seeing another fastball until the 2009 World Baseball Classic
DRaysBay has broken down the B.C.-born slugger's at-bats in Boston's first-round win over the L.A. Angels, concluding, "In the entire series, he never seemed to squarely connect on a decent breaking ball." Bay vs. the Rays is a major subplot, since as you will recall, he almost went to Tampa at the July 31 trade deadline.

Has everyone seen the Sitting On the Dock of J-Bay video?



(Via Boston Dirt Dogs.)


He can pitch you into paradise, or bring Big Papi to his knees ... Jazzman.

The Rays best left-handed option in the bullpen, J.P. Howell, likes to listen to Louis Armstrong to get into the right groove mentally. His other superstition? PBJs.


Dice-K is not facing Kazmir, which is good, since some of us need to get up in the morning

Daisuke Matsuzaka, who's usually hitting the 100-pitch mark by about the fifth inning, starts Games 1 and 5. Rays lefty Scott Kazmir, who also pitches like he's playing a game of burnout, throws in Game 2. That being said, the game probably still goes past midnight Eastern time.


The Rays can't hit lefties

This is a problem, since Jon Lester would start Game 7. The Rays' options it goes to The Decider, by the way, will be either Matt Garza or James Shields on three days' rest, and that could be end worse than it did for Cleveland last fall. Tampa Bay will just have to get it done in six games, then!


They have also waited 100 years, and for 90 of those, didn't even have a team

"Given demographic reality, there has to be at least one Tampa centenarian whose last, burning ambition is to see a flag raised over the Trop." -- Tim Marchman, Slate


Fortunately, no one outside of his ESPN/TSN colleagues pays attention to Steve Phillips

The analyst, so-called, wanted the Red Sox to trade their best left-hander, Jon Lester, in a package for Johan Santana, who of course went to the New York Mets. Lester could be the best left-hander the Red Sox have had since Mel Parnell in the late 1940s and '50s. He won all three of his starts vs. the Rays this season and allowed just two earned runs in 20 innings.

Why the Rays might win

Their bullpen is getting it done (3.55 ERA in the regular season, 0.77 in the first round against Chicago). They were 6-0 in one-run games against the Red Sox in the regular season (Gordon Edes, Yahoo! Sports). They have the better catcher in the series -- all-star Dioner Navarro over Varitek, who is useless as a hitter -- and could very well only need to win one of the three games at Fenway Park.

They fared well in the regular season against the Red Sox (then again, so did the L.A. Angels). Tampa's entire body of work as a group of hitters is only OK. Once you account for the injuries that kept Longoria and tablesetter Carl Crawford out of the lineup for prolonged stretches, you realize they have enough hitting to win a best-of-7 series.

Throw in a shaky Boston bullpen, the spectre of J.D. Drew re-aggravating something and we could see the twilight of the gods.

Plus, being totally off-the-cuff here, New Englanders totally deserve to go down. Case in point: A Connecticut columnist called Mike Scioscia's ill-fated squeeze bunt call in the deciding game of the Angels-Red Sox series "the biggest managerial gaffe in postseason baseball history."

How soon they forget Grady Little (and John McNamara, and Don Zimmer, and Joe McCarthy, if you count one-game playoffs).

Red Sox Nation no longer knows its own history. You only have the last eight years of U.S. politics as proof of what can come from that.


Why the Red Sox will win (and why you have no guts for calling this)

There is always tendency with predicting to focus 75% of your attention on 25% of what matters. Boston had the best run differential in baseball over the run of 162 games. They can ride with their starting pitching -- Dice-K, Josh Beckett and his his iffy oblique muscle, the lefty Lester and bad man with the knuckleball, Tim Wakefield, who throws in Game 4.

This could just as easily be a Red Sox sweep as a knock-down, drag-out seven-game epic. It's a form pick, since no one can get wrapped around the Rays' accelerated development. One scenario is the Red Sox scrape by, but many come away convinced Tampa Bay is the better team.


Last word to the curmudgeonly Chicagoan, since it's all about you even though both your teams will be watching The Office tonight

"If the Tampa Bay Rays win a World Series a few years after the Arizona Diamondbacks did, I feel it is only fair that the North Side of Chicago be permitted to apply to Major League Baseball for an expansion team." -- Mike Downey, Chicago Tribune
Other business
Two days ago, MLB Trade Rumours did list the Jays among possible teams who could end up with lefty slugger Prince Fielder if the Milwaukee Brewers trade him. Hey, Lyle Overbay has already been traded once in his career to make room for Fielder -- and speaking with full awareness that he and his dad, Cecil, have been on the outs, who wouldn't want to see him wearing his father's old No. 23 on Flashback Fridays?

(Fielder wears No. 28, which Shaun Marcum has for the Jays.)


The Old Tiger Stadium Conservancy (savetigerstadium.org) is seeking donations as part of its efforts to save the historic Detroit ballpark. The preservation effort is by no means complete.

The Conservancy has a memorandum of understanding to take ownership of the park and restore it, but need to raise $50,000 US to pay for security costs until all financing is in place. For any U.S. readers, the OTSC has 501(c)3 status from the IRS, so you can count it as a charitable donation.
Jays catcher of the future J.P. Arencibia had a home run last night in the Arizona Fall League.


It is crazy to think how much tech-savvy brainiacs such as Nate Silver of Baseball Prospectus/FiveThirtyEight.com fame are changing how people analyze in sports.

Meantime, in Canada, editorial decisions get made by Boomers who don't even know what a memory stick is for.




Dave Basso is the Jays' Triple-A manager.
That is all for now. Send your thoughts to
neatesager@yahoo.ca
.