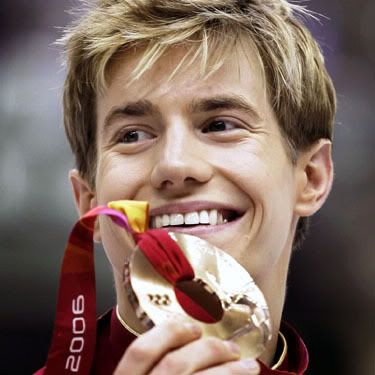 If you need another example of why most sportswriters would rather stick a jagged stick in their left eye than cover figure skating, consider
this
.
Us failed jocks just don't get the sport. We especially don't get the athletes that partake in it. The more refined of us can appreciate the athleticism, but the desire to wear a frilly shirt and subject yourself to the whims of eccentric French judges...
No. Makes no sense. Those that do, must be a bit of a different animal than the typical high school quarterback.
So, once you understand that you can't possibly understand, today's decision by
Jeffrey Buttle
to retire
17-months before the Vancouver Olympics
makes perfect sense. The Olympics are in your home country. There is more money floating in than at any time in the history of the sport. If you win the gold you will be put on a stamp and fast tracked to an Order of Canada. Yeah, retiring makes perfect sense. In the bizzaro world that is elite figure skating anyway.
You try not to judge, but...figure skaters. WTF. No, really. W. T. F.
Seriosly, do you remember the Battle of the Brians in '88? Buttle would have been the most hyped (non puck chasing) athlete at the Games. At least now CTV might spend a couple less seconds covering the event, so that's something.