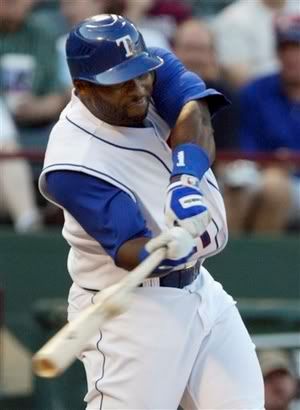 Let someone else march. I wanna play Frisbee...


It's odd how journalists can't praise someone without having someone else to use as the bad example.

Sports commentators are especially bad for telling you how This Guy is great because he's nothing like That Guy. That seems to be a root cause of the incident involving Milton Bradley and Ryan Lefebvre, who does play-by-play for the Kansas City Royals.

Bradley, the Texas Rangers DH, went all the way to the press box last night to try and confront Lefebvre over comments that were made about him on the air during a game. He had "tears welling up" in front of the media.



"Lefebvre said, from what he remembers, that he was complimenting (Rangers outfielder) Josh Hamilton and how he's been accountable for his mistakes and said 'it doesn't appear Milton Bradley has done the same thing in his life.' "
-- Dallas Morning News

Perhaps this gets played as another crazy-ol'-Milton-Bradley story (among other things, his 2007 season ended early when he blew out a knee while being restrained by his own manager during an argument with an umpire). Honestly, though, it isn't. Bradley was damn right to try and seek out Lefebvre, who -- and this shouldn't be overlooked -- has been public about his battle with depression.

Nothing gives a play-by-play person any right to judge a player in such a personal way. It's not clear if that was how it was intended. Please bear in mind that people's mouths do get ahead of their brains when there's a live microphone.

Lefebvre doesn't need any lectures. Nor should anyone pile on him for being the son of a former major-league player and manager (Jim Lefebvre) who landed his first major-league gig at the ripe old age of 24 in 1995 -- clearly someone who has had it way too good to get on his high horse. That's refuted by his trials with depression. Besides, you would be just as guilty as he was of inferring things about someone you really don't know, beyond what you can turn up on Google.

The point is that why does Bradley have to be used as the bad example to Josh Hamilton's good example? Hamilton's story of beating despair and drug addiction to become an early-season MVP candidate stands alone pretty well. Bradley doesn't stand in opposition to this -- he stands next to it, since he's leading in the AL in OPS while protecting Hamilton in the Rangers lineup. (Bradley hits cleanup, while Hamilton bats third.)

Thing is, the media is wired in such a way that it encourages people to engage in these B.S. comparisons and we're stupider for it sometimes. We all do it, but man, can it get old. It's like the last line of the theme to the tragically short-lived teen dramedy Popular: "Cuz I'm tired of being compared."

It's not sexy, but a big catalyst for the surprising Chicago White Sox leading the AL Central? Walks. The Sox won the World Series three years ago despite being 11th in the league in walks and on-base percentage. Last season, they were seventh in walks, but dead last in OBP, so no one noticed the change. It's continued this season after the trades for Nick Swisher and Carlos Quentin, who've taken the at-bats that were wasted on a group of stopgaps last season. (Strange thing about Quentin: He got hit by pitches a lot in the minors, but he's only been plunked once so far this season.)
How 'bout those Blue Jays?
The Jays are like an Ottawa bar on a Tuesday night -- a lot of singles, but no action.

Every conceivable metric says they project to be above .500 (34 up, 34 down) after 68 games. Wednesday's 2-1 loss to the Mariners was where you might have, just might have seen the effect of baseball's crackdown on amphetamines ("greenies").

You know how when you play golf on a hot day, your muscles get tired and you can't generate the same power by the time you get to the 16th, 17th, 18th holes (especially if you don't play all the time)? That must be what it's like when it's a day game after a night game. With a couple greenies, Lyle Overbay's deep fly that Raúl Ibáñez caught against the wall in left-centre for the final out probably would have been a game-winning two-run runner.

It's sad to read that FAN 590 callers are lashing out at Mike Wilner, but it's good to read that he's standing his ground. Yeah, you wouldn't want a sports-talk radio host who actually rewards his audience for paying attention and being informed.



"People seem to think that I'm condescending, one going so far as to even comment that the way I say 'hello' to callers is condescending. I don't think I am ... But if a caller says something stupid, I'm going to tell that caller that he said something stupid. If a caller says something that's factually incorrect, I'll supply the correct information. I'd rather that from a radio host than to have a caller say, 'Alex Rios hits into a double play every time he comes to the plate" and have the host say, 'you're right, he does.' So that's not going to change.' "

A good friend has said that eventually Wilner's going to have his change his tack eventually. It's unlikely that all-sports radio listeners -- some, not all -- are going to stop being a bunch of passive-aggressives who have alligator mouths to going with their bird brains. Here's hoping that day is a long ways off.
(One irony about Ryan Lefebvre's Fire Joe Morgan-worthy moment: His old man was the NL rookie of the year back in 1965. The runner-up? Joe Morgan. You could look it up.)