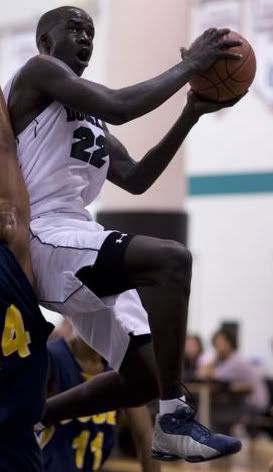 The
New York Times
has picked up the
Bol Kong
story, which is of national concern but has never drawn much interest anywhere east of his hometown, Vancouver.
There's an entire level of geopolitics and international diplomacy that, frankly, is way beyond the ken of a blog about sports. The best stab here is that it is completely unjust that Kong, a gifted basketball guard whom a big-time hoops school, Gonzaga, is
apparently very sweet on
, can't get a student visa to play U.S. college basketball. The U.S. won't let him in since he's a citizen of Sudan, a state which is considered to sponsor terrorism according to laws passed in the wake of the Sept. 11, 2001 terrorist attacks.
Talk about the law of unintended consequences. Kong and his family left Sudan due to the country's civil war and, according to the timeline, were in Canada by the time the law that is keeping him from being allowed into the States was passed. He poses no threat to anyone, except the guy who's stuck with guarding him (he lit it up against Division 1 teams while playing for Douglas College last season).
The question is where is Canada's government in this? Prime Minister
Stephen Harper
never misses a chance to attach himself to hockey. There might not be a lot of political capital in helping Kong, but it's the
right
thing (presuming something can be done to change the Americans' minds).
The 6-foot-7 Kong would be attending a top basketball school, study at a highly-ranked private university and team up with another Sudan-born Canadian, shooting guard
Mangisto (Manny) Arop
, who's
committed to 'Zaga
for the 2009-10 season. Why not pull out all the stops to help him realize his dream?
Related:
Player Caught in a Web Not of His Spinning
(Aaron Kaplowitz, The New York
Times
; via
The Postmen
)