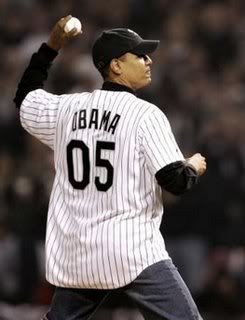 Hey, Roy Halladay only works about every fifth day and that works pretty well ...
Apparently the Jays' struggles with the bats are just part of a giant league-wide sucking sound.

Bringing this up after a 6-5 game is poor timing, but Baseball Prospectus has provided the context on the league-wide drop in run-scoring across the American League.

(It's topical since Jays GM J.P. Ricciardi mentioned it tonight during his weekly CYB session that this is like the first time since 1974 that the National League has been outscoring the AL. Nate McLouth has more homers than anyone in the AL, for pity's sake.)

Scoring in the AL is down more than half a run per game compared to this point in 2007, when it was also down by about the same amount compared to the same point in '06. All told, it's down 1.26 runs per game from 2006; that's enormous.

That doesn't get the Jays off the hook for not being able to bring home anyone from second with two outs -- just read John Brattain's impassioned analysis for Hardball Times. It explains it in part.

As the Beep notes, teams are trying to get more defence into their lineups, so you see players such as John McDonald end up as a semi-regular. It ends up taking away runs for both teams. The AL also seems to have a lot of pitchers -- Fausto Carmona with the Clevelands, Chien-Ming Wang with the Yankees -- who thrive by 'pitching to contact' and make hitters get themselves out.
Brattain, by the way, even goes so far to say that Barry Bonds could even use the Jays' numbers hitting with runners in scoring position to build a collusion case.

The Jays signed Kevin Mench and Brad Wilkerson -- nice guys, who can certainly help, but you wouldn't want to mock them by even comparing their 2007 numbers to the 43-year-old Bonds. (Six months later, the gut feeling remains that Bonds won't serve a day in jail -- but those U.S. prosecutors, god bless them, are determined to make something/anything stick.)

Sox & Dawgs has a clip of that Manny Ramirez catch where he high-fives a fan sitting in the first row and then throws back to the infield to double off Kevin Millar.
There are no master switches, but the Rays' bullpen has an earned-run average of 3.16 -- exactly three runs lower than their major league-worst 6.16 last season.
Joe Posnanski has a book to sell for only $5.99.
It figures that a post that would start off talking off about disappearing offence would come on a night when the Syracuse Chiefs scored 16 runs in back-to-back innings.
It's probably not that amazing that smart people still deny Bill James' work at the same time that it's being used to help explain complex political strategy. A version of sabermetrics might have a hand in determining the next leader of the free world, as this article about a Barack Obama campaign strategist named Jeffrey Berman details:



"A glimpse at Berman's, and the campaign's, detailed, Bill-Jamesesque approach to the game of politics came in a spreadsheet the campaign sent to Bloomberg reporters, it said inadvertently, on Feb. 5. The spreadsheet had estimates of the outcomes and delegate counts in every state; it has called the winner wrong just twice.

"... the heart of Obama's victory has been technical and tactical — to the frustration and disbelief of (Hillary) Clinton's inner circle." (Emphasis mine.)

That would make Hillary analogous to Joe Morgan, then. (Link via the very essential ShysterBall.)
Last but not least, contributors from D-Rays Bay and Drunk Jays Fans have a hand in the AL East Blog, which might become a regular stop. Their Yankees chronicler, get this, is named Hank Sager -- no relation.
That's all for now. Send your thoughts to neatesager@yahoo.ca.