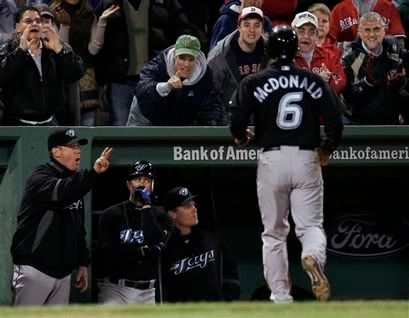 The only way to forget about that Blue Jays team that can't hit a volleyball with a two-by-four is to get more immersed in baseball. Seriously, you need to be able to laugh off a team which is hitting .100 with runners in scoring position. It's just a game. Here's some solaces:
Keep in mind that's there still some sportsmanship left in the world.
Marvel at Micah Owings, a pitcher, coming off the bench to hit a game-tying, pinch-hit home run for the Diamondbacks last night.

(Forget his pitching. Can the Jays get Owings to start at first base against left-handers?)

Read the Yahoo! Sports feature on St. Louis Cardinals reserve outfielder Brian Barton. It's timely in light of the hits that the younger generation of sportswriters have taken in the past 48 hours.

Jeff Passan's piece would be great in any media. Don't miss the point, though. Web culture helps make this possible (and more accessible than if it was only in the print edition of the Kansas City Star). The typical paints-by-numbers profile that tells you everything about a famous athlete except what he/she is like and why you should give a damn about her or him isn't going to cut it for Yahoo!.

Passan had more licence and latitude to profile an obscure backup outfielder who's majored in aerospace engineering, travelled the world for reasons other than to play sports and says nonjocklike stuff such as, "I like to invest in knowledge." He sounds a hell of lot more interesting than Alex Rodriguez or Sidney Crosby. The reality is that a lot of media highers-up will settle for the 1,000th feature on Crosby push a writer to bat out the first one about Bryan Barton -- assuming they've ever heard of Bryan Barton.

That's something that Buzz Bissinger and Bob Costas never acknowledged during their character assassination of Will Leitch the other night. There's a bit of irony, then, that Barton plays for the Cardinals.

(Also worth a look-see: Yahoo!'s piece on how attendance is up even with a slowing U.S. economy.)
A little Googling turns up a 1994 profile of Can-Am League commissioner Miles Wolff that gives us all a model of behaviour to aspire to: "In conversation he's cerebral and dispassionate; even when calling somebody a jerk, he makes it sound more like analytical precision than scorn."
On the serious side...
John Brattain has a requiem for John Gibbons at Hardball Times. No one's who is of a rational mind has ever said jettisoning Gibbons would automatically make things any better.

It just wouldn't make it any worse.
He's McGlovin, not McRunnin: John McDonald getting picked off while pinch-running for the designated hitter (which keeps him from going in for his fielding), that was karmic.

Yanking Matt Stairs in a tie game is a kind of a low-percentage play. The runner's speed doesn't determine whether he can score from second base on a two-out single or from first on a double at Fenway Park, given its quirky dimensions. It's more about how the ball's hit, where the outfielder's positioned and how quickly he can make a good throw. Just look at David Ortiz and Manny Ramirez the past two nights.
Drunk Jays Fans tees off on J.P. Ricciardi for his "you want to win with good people" sermon on The Fan 590 last night when the Barry Bonds question came up again. It was a little paternalistic, but that's part of sustaining a Big Lie.
Booze also helps. That's all for now. Send your thoughts to neatesager@yahoo.ca.