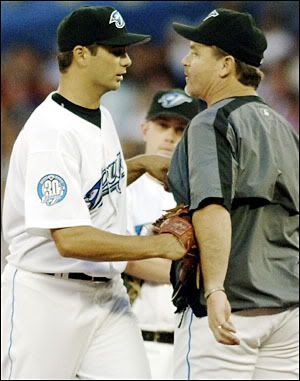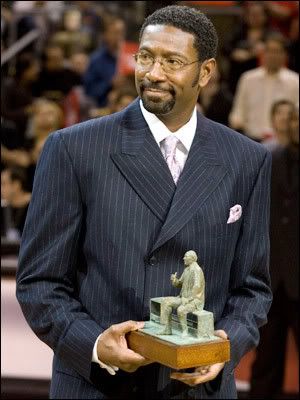 Looking like a cab with all four doors open...
If it wasn't so ghoulish, there would be justification to run a pool on who gets ousted first: Raptors coach Sam Mitchell (near right) or Blue Jays manager John Gibbons (far right, with an unidentified former player).

Dave Feschuk's column in the Toronto Star published ahead of Monday's season-ending loss pretty much said once the Raptors are done, the next domino to fall over is Mike D'Antoni in Phoenix. As for Gibbons, so much has been said already. Good men, by all accounts, but both have been on the job in 2004, which is an eternity in pro sports.
The best advice for when you want to get your screed on is to wait a couple days for Dave Zirin to say it with more credibility and eloquence. He pretty much laid into all the media types who kept repeating the word "character" ahead of the NFL Draft -- like the Evanka Osmaks of the world have a screw's clue of what Darren McFadden has had to overcome just to live this long, let alone be a first-round draft pick:



"McFadden's story is a case study in the kind of character a typical 'draftnik' couldn't hope to comprehend. Here is someone who comes from a neighborhood in Little Rock where gangs and random killings are a daily fact of life. Instead of being seen as an indication of the remarkable character and perseverance it took to make it out of a home with eleven siblings, with one brother a Blood and another a Crip, his origins become just another strike against him.

"This is someone from a neighborhood with an incarceration rate that exceeds the graduation rate, but who has never been arrested. OK, so he's been in a couple of bar fights, but imagine if entertainers were held to the same standard. What if Sean Penn couldn't get a movie role because he's been in a fist fight or two? What if any actor who has ever smoked weed or made an ass of himself was somehow deemed unworthy? It's a ridiculous double standard driven by general managers who fear they will lose their jobs if they can't predict the future.

"That's the difference between Hollywood and the NFL. In Tinseltown, celebrities who act out for the paparazzi and our US Weekly fix are
mainly white and largely forgiven for their wildness. Future NFL players who get poked and prodded like prize horses at auction are almost all working class and predominantly black."

Point being, it's hard out there for the bleeding-heart sports fan to pick up a newspaper and see a headline, "Wanted: Players with character." The use of wanted is a little too ominious (obviously, whoever was on the copy desk didn't sit around listening to her/his parents' old Richard Pryor records.)
Junior hockey rumour off a message board that has to be repeated for sheer silliness: Erik Gudbranson, the big defenceman from Ottawa who's expected to be a top-5 draft choice on Saturday, only wants to play where there's a French-language high school.

The Kingston Frontenacs are picking fourth and the city does have French instruction at Regiopolis-Notre Dame, which used to be where the players attended high school. Just saying. Fronts followers would also be well-advised to brush up on the new rules that cover what happens when draft picks refuse to report. It has happened in the past.
That's all for now. Send your thoughts to neatesager@yahoo.ca.