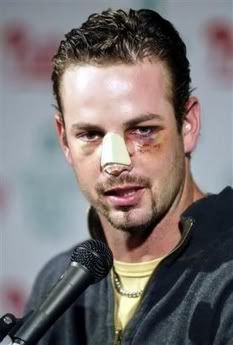 It's staying light longer, the Leafs are toast ... that can mean only one thing: We'll soon see the first halter top of the season. OK, two things: It's baseball season, that mystical, wonderful time of year where you commit to a team for six months, knowing full well they won't win. Here's a starting nine for the San Francisco Giants.
Where 100 losses happens: It's pretty hacky to act like predicting the Giants will drop a hundred games this season is any kind of bold prediction.

Look at the lineup. Bengie Molina might bat cleanup, for pity's sake. No regular is projected to hit 20 homers. The best defender, Omar Vizquel, is 41 years old. The pitching isn't good enough to save them.
Where 99 homers as a team happens: The Giants could be the first post-Steroid Era team to hit less than 100 home runs. The Kansas City Royals almost did it in 2007.

The last team to go through a 162-game season and fail to crack the century mark was the '93 Florida Marlins, a first-year expansion team that played in a football stadium and wore teal caps.
Where no run support happens: There's something innately fascinating about a good pitcher having a losing record; remember that year in the '80s when Nolan Ryan led the National League in strikeouts and ERA, but finished 8-16? Sure you do. Bill James, in his new book, even retroactivity bestows the Turk Farrell Award for the man who pitched the best while finishing in the red; recipients include Bert Blyleven, Steve Carlton (twice!) and Curt Schilling.

Suffice to say, the Giants' Matt Cain, who's 23, and Tim Lincecum, 24, are going to be in some pretty fine company, so to speak, until they can get to free agency. ddd
So, who did play leftfield from 1993 to 2007? "Nobody! We had a leftfield-by-committee! Sometimes we just played with five infielders! Everyone went on vacation!" (Claps hands over ears, starts singing.)

The Giants organization, tired of feeling dirty, so very dirty is, are removing all images from Barry Bonds from the ballpark. The only trace that will remain is a plaque marking where his 756th homer landed.
Youth is relative: Reading about the Giants' youth brigade, so-called, is like that Seinfeld episode where Kramer moves into Jerry's parents' retirement community.



Morty: "He's even got a date with that young aquacize instructor!"
Jerry: "She's 50!"

The youngbloods in question are players such as first baseman Dan Ortmeier and outfielder Fred Lewis, an infielder Eugenio Velez. To put in perspective, Velez is the only one who's actually younger than the Jays' Aaron Hill, who's in his fourth season, and he's only got him beat by two months.
The Tao's arteries appear safe -- for now.: This year and potentially through 2012, the magic milestone is 20. The Tao of Stieb has vowed to eat a pound of raw bacon if Giants centrefielder Aaron Rowand, who signed a ridiculous free-agent contract over the winter, cracks 20 homers in any season in San Fran.

The Baseball Prospectus 2008 has Rowand (pictured) down for 15 homers this season.
Where finding solace happens: From afar, there are individual stories to root for on the Giants, stuff we can all get behind. Matt Cain and Tim Lincecum keeping their sanity over the next few years, for one.

Fred Lewis can play a bit, and if he ends winning the leftfield job and being that classic late bloomer who hits .300 after years of toil in the minors, that will mean a lot of feel-good stories, and heavens know we can use that these days. Former Jays reliever Vinny Chulk is also trying to come back after circulatory problems stemming from his use of chewing tobacco cut his season short.
The experts speak: "The Giants are just lousy with veterans who would make fairly good reserves, but whom they treat as regulars." -- Baseball Prospectus 2008

It's not the players' fault; this one is all GM Brian Sabean's. Take the other night. The Giants were playing an exhibition game at home vs. the Mariners when Rich Aurilia forgot about the lead runner "after he awkwardly caught a throw on a potential double play," allowing Seattle's Yuniesky Betancourt to round third and score standing up. Thing is, what was Aurilia, a fine shortstop once, doing playing first base to begin with?
Need-to-know: The Giants have a very nice ballpark. You should really read Jeff Pearlman's bio of Bonds, Love Me, Hate Me. The Giants threw Barry Zito against their Triple-A team last week, played most of their regulars, and lost 4-3. That is all.