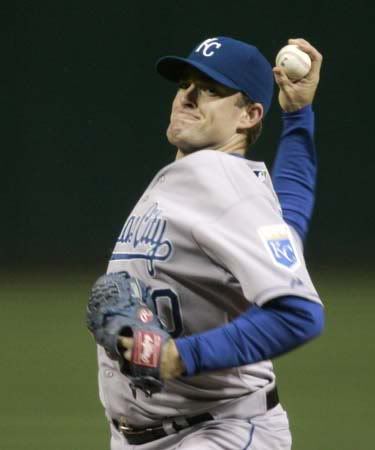 It's staying light longer, the Leafs are all-but-eliminated. This means only one thing: We'll soon see the first halter dress of the season. OK, two things: It's almost baseball season, that mystical, wonderful time of year where you commit to a team for six months, knowing full well they won't win. Here's a "starting nine" for the Kansas City Royals.

Suggested future slogan: "The Kansas City Royals -- with 95% less suckage." Too bad it's already being used by the Comedy Network up here in Canada.

Talk over the winter was that the Royals might build around their young hitters -- Alex Gordon, namely -- actually be a semi-halfway decent team by, oh, 2011 or so.
There's hope yet? Royals uber-blogger Rany Jazayerli is hypothesizing that smart poor teams will have their day yet. His theory is that the Red Sox, Yankees and the like"rather than continuing to increase their payroll into the $200 million range to ensure they'll challenge 100 wins every year, (might) decide they can keep their payroll about where it is by cutting out the $5-10 million free agents and blending the occasional rookie into the lineup, and still win 92-95 games every year."

Of course, it's easy to be philosophical for when your favourite team is in the AL Central, not the East.
Well, being smart is a recent thing: Kansas City GM Dayton Moore, by all accounts, has the Royals headed in the right direction, but one decision seems bound to haunt them. You know how everyone is drooling over the Yankees' Joba Chamberlain like he's the greatest thing? The Royals passed on him two seasons ago to select Luke Hochevar, who might be good someday but for now, is starting the season in Omaha. It's almost like there's a pattern to having had one winning season in the last 14.
New meaning to 40/40: This is the Royals' 40th season and they're still looking for the first 40-home run year in franchise history. Bob Cerv has lived into his ninth decade without anyone challenging the city record of 38 that he set back in the 1958 for the old Kansas City A's.
What's next? If Royals right-hander Brian Bannister (pictured) can bridge the eternal jock-nerd divide by reaching out to stat geeks, then why can't there be a free Tibet?
Favourite stat to dust off: The '85 World Series-winning Royals used 14 pitchers all season, four of whom threw only 30 innings combined. Please share this the next time someone tells you teams need to carry 12 pitchers full-time.
Like being called a greasy thug, it never stops hurting: A Jays fan should always have a soft spot for K.C. They have a real baseball stadium. Some things are also forever and that includes the way they owned the Jays in the '85 playoffs.
Need to know: Alex Gordon will soon be considered the best young third baseman in the majors behind the Mets' David Wright. As long as they have him, they have a team.
Last, but not least, the most awesome feat by a Kansas City player since Bo Jackson's 448-foot homer in the '89 All-Star Game: Royals outfielder Joey Gathright taking a short run and leaping over a car.


That's all for now. Send your thoughts to
neatesager@yahoo.ca
.