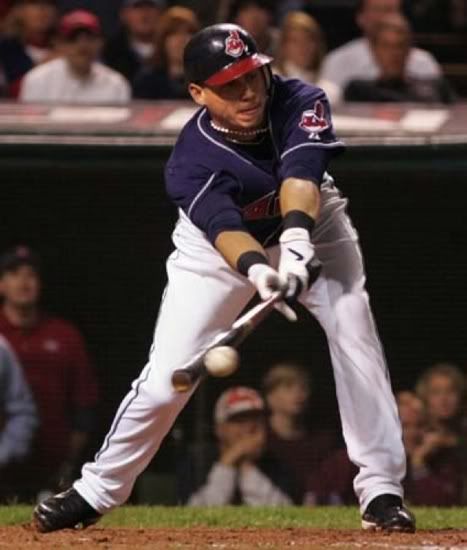 It's baseball season, that mystical, wonderful time of year where you commit to a team for six months, knowing full well they won't win. Here's a starting nine for the Cleveland Indians.
Special consultant John Muckler: Cleveland's on the brink of something big -- they had triple match point vs. the Red Sox in the ALCS -- but didn't deem it necessary to do much to improve their team. Hey, the former Ottawa Senators GM does live in Buffalo, where Cleveland's Triple-A team is located (for now).
Feeling the strain: Cleveland's 1-2 pitching punch, Fausto Carmona and C.C. Sabathia, both wore down toward the end of last season, but they're pretty much for real.
Expert opinion: "The Indians pen is really a great thing until you get to Joe Borowski; it's like eating a remarkable meal at the best restaurant in town and having a Twinkie for dessert." -- Baseball Prospectus 2008

Hey, Twinkies are durable, just like Joe Borowski with his 40 saves and 5-something ERA.
Upgrades: Cleveland should get more out of second base -- a full season of Asdrubal Cabrera -- and possibly centrefield and the DH spot with Travis Hafner.
If at first, you don't succeed: Former Ottawa Lynx infielder Jamey Carroll got to the World Series with the Rockies last season. Now he's with Cleveland, so ipso facto, the Indians will win the pennant!
Je me souviens: The team got two big building blocks when the Expos' assets were being liquidated. Centrefielder Grady Sizemore and lefty starter Cliff Lee were each acquired in the short-sighted Bartolo Colon trade in 2002 in order to ensure an 83-79 finish instead of 79-83 for the Orphans of Summer. Never forget.
I don't know, third base: It seems like Cleveland tries a new third baseman every season and then remembers Casey (Four Corners) Blake is still on the team. Teams don't trade within their own division much, but why aren't they trying to get Joe Crede from the White Sox so Blake can go back to his backup role?
Banished Barfield: Second baseman Josh Barfield (son of Jesse) couldn't hack it in the AL after coming over in a deal with the Padres. At least playing for the Buffalo Bisons puts him close to his pops; expect this to get referenced every time Jesse Barfield is working a Jays telecast.

Josh Barfield can only play second base, so that rules out him helping the Jays. Asking the equipment manager in Buffalo for an outfielder's glove might not be a bad idea.
Need-to-know: The widespread impulse to make Cleveland the pick to win the AL Central might just be an impulse to overthink things. The Tigers should be favourites to have the league's best record. It's 50-50 which team has a longer window to win a pennant.
That's all for now. Send your thoughts to neatesager@yahoo.ca.