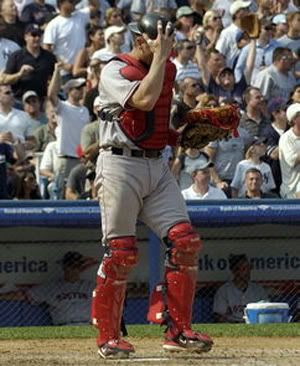 It's staying light longer, the Leafs are all-but-eliminated ... that can mean only one thing: We'll soon see the first halter dress of the season! OK, two things: It's time for baseball, the timeless game that involves committing to a team for six months after reading all winter about why they won't win jack squat. Here's a "starting nine" for the Boston Red Sox.
John Henry plays Strat-O-Matic, but does not throw dice: The Red Sox owner is a perfect confluence of wealthy tycoon and total baseball nerd.

The Red Sox have become the most 21st-century team after being stuck in the 19th for much of the 20th.Boston is ahead of the curve on most of the trends of not only acquiring good players, but retaining their good players. (Prediction: Bartolo Colón will bear that out at some point this summer.)

The franchise was held back by its hangups -- economic, egotistical and especially racial -- for so long. Between Henry, Theo Epstein as GM and Bill James as senior baseball operations adviser, they have quite a team. They are mastering baseball's forever flawed economic structure (not that intelligence can ever be legislated, which is too bad, eh J.P. Ricciardi?).
Shout, shout, let it all out: That being said (deep breath), their fans who come to Rogers Centre are a bunch of louts who can't handle superior Canadian beer; only poseurs (takes one to know one, granted) drink Samuel Adams; all of those Red Sox diehards in Canada probably had Blue Jays bedsheets and pyjamas as kids (but hey, people change); Jacoby Ellsbury might look like Freddie Lynn circa 1975 minus the power now, but he has to stop occasionally taking worse routes than George Donner when he's out in centrefield; and Curt Schilling still campaigned for George W. Bush in 2004 and he's about as relevant in 2008. Please keep that mind.

(The Celtics won't make the NBA Finals, don't try to pretend you've cared about the Bruins all along and the Patriots still blew it in the Super Bowl.)
Nevertheless: It was either jealousy or pandering to the lowest common denominator that led baseball writers to bag on the Red Sox for taking a principled stand to secure bonus money for their coaches for their Japanese trip. Hey, Phil Rogers of the Chicago Tribune, your paper wants to hire five new employees, but they don't want to spend any more money, so do you mind "chipping in" some of your salary? That would be, in your words, "a show of unity."

Hal McCoy of the Dayton Daily News, what are you doing submitting that expense report from that last road trip? You wrote that all the Red Sox did was put "spotlight on the fact" that they earn a lot of money; aren't you doing the same when you claim for travel, meals and hotel rooms? You were going to have to eat and sleep anyway, so why should the paper pay for it?

See the point? Baseball tried to be cheap with the coaches and the Red Sox players grandstanded to get what they wanted. It's called playing your trump card.
Why don't they name a city in Mass. after him? Every easy-to-hate team has one exception to the rule who seems like a good Joe. The late '80s A's had Dave Henderson and Dave Stewart; Paul O'Neill was that guy on the late-'90s Yankees.

What's not to like about Lowell, the World Series MVP? He played a team-high 150 games last season, he had a bounce-back season and last but not least, he's forever a reminder that the Yankees liked Scott Brosius more than him about a decade ago.
Remember the names: The Red Sox's revenues mean they and the Yankees can price other teams out of foreign players who don't fall under the amateur draft (it's called American exceptionalism). Keep an eye out for 18-year-old Dominican shortstop Oscar Tejeda and 19-year-old Taiwanese centrefielder Cse-Hsuan Lin in a couple years.
Don't throw him against the Orioles, then: Colón has a 3.56 lifetime ERA against teams who are playing better than .600 ball. Against sub-.400 teams, it shoots up to 4.72. You could look it up.
They can kind of pitch: Don't put too much stock in Josh Beckett being left behind in Florida or Clay Buchholz getting roughed up by the Hanshin Tigers the other day. Dice-K should improve in Year 2; Jon Lester could be the first good left-handed starter the Sox have come up with since Bruce Hurst and John Tudor 25 years ago. The organization knows where to find more pitching if the need arises. Oh, and you know about Jonathan Papelbon.
ManRam powers down: Manny being Manny will mean that last season's numbers -- 20 homers, .388 on-base percentage, .493 slugging -- probably represent the start of the leftfielder's sunset years. Will he be the first player to have a do-rag on his Cooperstown plaque?
Need-to-know: They posted the AL's best ERA despite playing 81 games at Fenway and Daisuke Matsuzaka having an uneven first season in North America. They were third in runs scored even with J.D. Drew (who still scored more runs himself than Trot Nixon ever did) having an off-year and Julio Lugo being allowed to bat 630 times. Put them down for about 95 wins, unless the pitchers all come up lame.
That's all for now. Send your thoughts to neatesager@yahoo.ca.