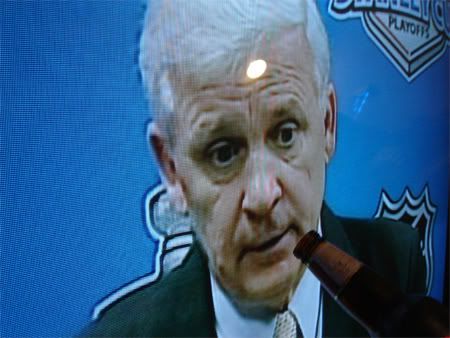 The inimitable Jean-Pierre Allard offers his conscientious objections to the goings-on in Hockey Country.
Here's a scary thought: Imagine how the Senators would have improved upon their stellar first-half mark of 27-11-4 if they had
Roberto Luongo
in nets, instead of
Martin Gerber
and
Ray Emery
, who are 20th and 31st respectively overall for goals allowed.
You're forgiven if you think you've seen this picture before.
Ottawa has never had a genuine No. 1 goalie for an entire season. Look no farther than that shortcoming as the single biggest reason why fans are still waiting for a Stanley Cup parade.
Okay, so the Leafs might have had a say in this imbroglio. Just like dumb injuries to the wrong guys at the right time have plagued the Senators.
You might recall that when
Jason Spezza
,
Mike Fisher
and token Frenchie
Antoine Vermette
each missed considerable time with injuries at this time last year, then-Senator GM
John Muckler
panicked and traded for centre
Mike
(Hooray For Hilary)
Comrie
. While this trade helped the team offensively, it gave him the false sense of security that his roster would be set with the return of the aforementioned players and caused him to fall asleep when
Jacques (Rémy) Martin
called at midnight to give him
Gary Roberts
.
Hence, Muckler could only deliver the now infamous
Oleg (Freakin) Saprykin
at the trade deadline instead of obtaining a couple of big and mean-spirited defencemen and goalie insurance, both of which would have proved extremely useful against the bigger and mightier Ducks in the Stanley Cup final.
I'm afraid that new GM
Bryan Murray
is about to do the same mistake this year. So much for Mr. Murray being a proud scholar.
Even before the latest injuries to
Dany Heatley
and Spezza, there were whispers that he was after a top-six forward, despite his club being first in goals per game and second in shots taken, even if though they could stand to improve upon their average ranking of 11th in power play efficiency.
And now, with two-thirds of his monster line decimated, you can bet all of that second mortgage you just took out to secure four tickets for
Sidney Crosby
's upcoming visit that forces you (shame on you Mr. Squeakly Clean) to also buy the same quantity for the truly exciting Florida Panthers, that the Shawville Slicker is getting his gun all warmed up to secure this year's version of Mike Comrie.
Which would be a pity, because once again, the Senators don't have all of their ducks lined up properly.
See, despite what they've been feeding you in the Senators Official Propaganda, aka the Ottawa
Citizen
, the Senators are much more in need of a No. 1 goalie and help on defence (are you listening,
Wade Redden
?), not to mention some muscle up front, if they are to give themselves a fighting chance against the big boys from the Western Conference this May, which might well be that team from Anaheim again.
Assuming of course they will get lucky again this year and draw as light a
table d'hôte
as last spring's menu of pureed baby Penguins, Devilled eggs and mild Buffalo wings that proved ridiculously easy to digest. This resulted in the Senators being ill-prepared to stomach the much coarser offering of duck confit at the main event.
And if Murray is going to foolishly sacrifice draft picks or prospects to secure a top-six forward before the trade deadline, then he better damn well get
Vincent Lecavalier
or
Joe Thornton
instead of
Marian Hossa
,
Mats Sundin
or
Olli Jokinen
.
NEUROTIC OBSESSION
Not sure then why there is such a neurotic obsession with offence when everybody knows that championships are won with airtight defence. Granted, you can never have enough scorers, but coach
John Paddock
would much prefer having a No. 1 goalie to Martray Gerbemery.
Heck, right now, he'd be ecstatic with former Ducks backup
Ilya Bryzgalov
who was plucked off waivers by Phoenix this November right under his old boss Murray's nose, despite all signs pointing, even back then, to Emery not being on board this year.
Ah, but if Ottawa's goalies could at least have the comfort of staring at the likes of
Chris Pronger
,
Dion Phaneuf
or
Mike Komisarek
in front of their nets, instead of Wade Redden,
Andrej Meszaros
and
Joe (Uh Oh) Corvo
... the entire Western hemisphere for some reason has fallen in love with the Senators back end, yet the aforementioned are 12th, 51st and 59th overall in giveaways and are simply not robust enough to win battles against the bigger forwards.
Throw in the new and improved
Chris Phillips
who shows vexing tendencies of playing like his old and mediocre self at times and who is also in the top 30 for turning the puck over and you're basically left with only one reliable rearguard,
Anton Volchenkov
.
With their leader in hits with being the versatile
Christoph Schubert
(95 and 11th overall), who divides his time between the blue line and upfront, you have to go all the way down to 32nd spot to find Phillips with 69 hits.
Need I highlight the Feb. 26 trade deadline date in a deeper font of red on your blackberry, Mr. General Manager, and text message you the names of Michael Komisarek,
Rob Blake
,
Andy Sutton
,
Brendan Witt
and
Adam Foote
as potential help?
.
So despite the Senators' impressive record of 29-11-4, there are still huge question marks.
Let's hope that 2008 will be the year when a Senators' GM finally recognizes that championships are won with airtight defense. It's only been their Achilles' heel for 10 long years now.
Failing that, the Senators will continue to tease their solid and loyal fan base with promising results in the regular season, only to show up at the shooting range finals and fire blanks.
May its defence never rest.
Jean-Pierre Allard
Ottawa, Ontario
January 14, 2008