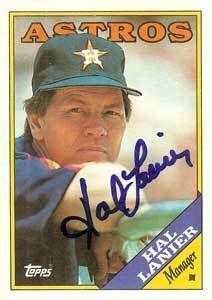 It's probably only of interest to yours truly and
Pete Toms
but what the hell, whoever manages the Ottawa Can-Am League club (i.e.,
Tim Leiper
) will be matching wits with a former National League manager of the year,
Hal Lanier
(pictured)
.
Lanier has signed on to manage the the Sussex Skyhawks after a 12-year run in the Northern League, including 10 with the model franchise of independent baseball in Canada, the Winnipeg Goldeyes. For someone who was nine years old in the fall of 1986, Lanier's name holds some special cachet since he was involved in that seminal National League championship series between the Houston Astros and the New York Mets.
(So was
Lenny Dykstra,
who was
in the news
yesterday.)
Scouring
Google
for an image of Lanier also turned up at 2001 story from the Canadian edition of
Reader's Digest
that paints a glowing picture of the ballpark experience at a Goldeyes game. Speaking as a former Manitoba resident who took in a few games at Canwest Global Park, if our team can be half as successful as the Goldeyes were, they will be in the capital as long there's a place to play. (Important qualifier.)
So opt in, Ottawa. No one likes a bunch of opt-outters.
Related:
Former major leaguer Lanier new Skyhawks manager
(
Mark Kitchin
, Morris County
Daily Record
)
For the Love of the Game; Here's why Winnipeg fans adore their Goldeyes
(
Robert Kiener
,
Canadian Reader's Digest
, July 2001)