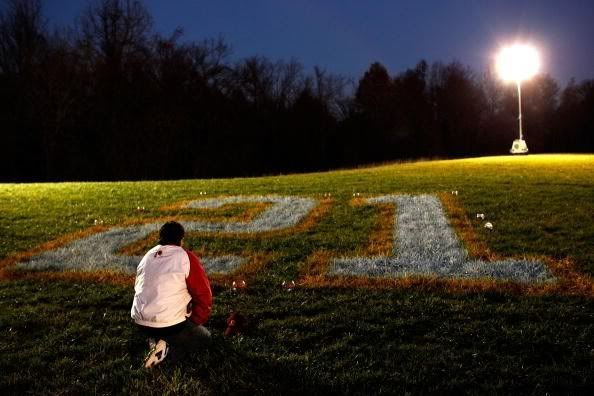 Dan Le Betard
's
column
on the coverage of slain NFL safety
Sean Taylor
is worth a read today, if you have the time...
"I can't imagine how terrible it must be for Taylor's broken family to watch the television and see their late son/brother/boyfriend turned into a talk topic and one-dimensional stick figure because we, the media, didn't and couldn't have a complete picture of their beloved and didn't have the time to wait for one to develop ... too much of Taylor's televised eulogy became noise and speculation and gossip-cloaked-in-journalism about his troubled past.

"A DUI and a gun-waving incident aren't irrelevant, but they weren't all Taylor was, either. Brett Favre, rest assured, won't be eulogized with excessive emphasis on his pain-killer addiction, especially not if he were to die this horrifically. How do you think your grieving family would like to see you defined on television by your one or two worst public moments?"
The absolute pits of the Taylor coverage on this side of the border was last night on
Sportsnet Connected
. A very blond pseudo-journalist who shall remain nameless as a public service asked
Jamie Dukes
of the NFL Network, "What can the commissioner (of the NFL) do about these unruly players?"
Is that an ignorant question, or a racist question? Way to blame the victim. That's right up there with, "she shouldn't have worn that dress."
Related:
Media has failed with Taylor coverage
(Miami
Herald
)
Taylor's death a grim reminder for us all
(
Jason Whitlock
,
FOXsports.com
)
(It doesn't really matter if the VBPJ in question was
Martine Gaillard
,
Evanka Osmak
or
Sean McCormick
... everyone asked that question. Everyone should have thought better of how to frame it; Whitlock provides another side to the story.)