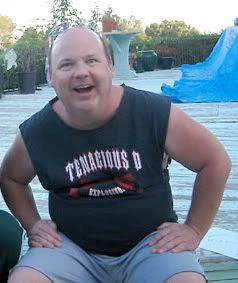 Bruce Boudreau
, the Washington Capitals interim coach, might have become a patron saint of
Out of Left Field
...
Boudreau, the 52-year-old rookie coach, was one of those dollar-store legends as a player, someone whose name you'd come across in the
NHL Guide & Record Book
(back in the day before
hockeydb.com
). You'd marvel at how his entry took nearly an entire column, at all the places he'd been and how he was still playing a decade after he'd last laced them up in a NHL game. There was an identification that began, well, right around the time yours truly inherited a box of hockey cards of late-'70s Leafs players that Uncle Todd had collected.
Anyway, Boudreau's quote in a
Hockey News
feature the other day, "Sometimes the tortoise wins the race," seem like words to keep in mind.
It's taken him a long time to get here, and who can't identify with a sports lifer? Bruce Boudreau would be an easy guy to cheer for even if he didn't bear a passing resemblance to
Kyle Gass
from Tenacious D.
This will probably the last time "Washington Capitals" and "tenacious D" appear in the same post. That's why they had a coaching vacancy in the first place.
Related:
NHL gig a long time coming for Boudreau
(
Ken Campbell
,
The Hockey News
; link via
Mirtle
.)