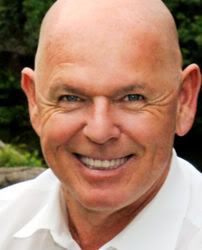 This Joker of a mayor only cares about sports when it's a convenient photo-op for him.
Oh, Mayor
Larry O'Brien
, the grinning goofball who got lucky at the polls last November when stuffy old Ottawa just couldn't bring itself to elect the gay man who was about 100 times more qualified, has no problem
pulling on
a Senators sweater when the team is in the Stanley Cup final. The Joker will go out to Lansdowne Park and toss a football to show his support for bringing the CFL back to town.
That's what makes The Joker,
et al.
, -- no point in respecting the office, since they don't judging by the treament of this city's baseball fans -- look self-serving and hypocritical for not doing more to bring the Can-Am League to town. Yesterday, the Can-Am League, whose commissioner
Miles Wolff
came here saying it could work, said it would
go ahead with eight teams
in 2008. Conspicuous by its absence was Ottawa, despite an impassioned effort from Wolff, representatives of Baseball Canada and some private citizens to bring the league here in lieu of the Ottawa Lynx, who are moving to Allentown, Pa.
Pragmatism and common sense have no currency at the corner of Elgin and Laurier Aves., apparently. The city is walking away from a sure thing, and "is walking away" will become "
has walked
away" in a matter of days.
FAILURE
O'Brien and Co. have failed miserably. Anyone who says, "Well, I don't really care about baseball," is just voicing the tyranny of the Go-Sens-Go majority. This city has a small but loyal corps of baseball fans. That makes it sickening that the city apparently wouldn't want the Lynx lawsuit against the city go away and let the Can-Am League set up shop. Larry O'Brien, if he has any class, will offer a personal apology to some very disappointed children (and children at heart) across this city.
A deal for the Can-Am League could have been in place long before the final Lynx game on Sept. 4. For reasons that are hopefully going to see the light of the day, although it may take years and hundreds of thousands of taxpayers' dollars, it didn't. So by the time Wolff came to town Sept. 13, it was the eleventh-and-a-half hour.
O'Brien, city councillors and staffers have only pretended to care. They have collectively dragged their feet, played politics as usual and conned themselves into the astounding belief that they couldn't do anything until the Lynx formally say they are moving to Allentown. (Why the Lynx have been silent is kind of baffling, but I'm not a lawyer.) They didn't care. They have just ran out the clock, and now this story gets buried beneath coverage of next year's budget deliberations.
Of course, the Lynx couldn't say that. They are in litigation against the city, which apparently believes that the Triple-A ballclub is trying to skate on $2.77 million supposedly owed to a municipal government that no longer exists. (Only in Ottawa.)
To long-time Ottawans, elected officials who can't see the stadium for the red tape is nothing new.
It doesn't cease to amaze that The Joker, et al., prefer an empty, neglected stadium and legal wrangling to baseball in our community. Never mind that it enhances our quality of life and provides a nice day or night out for young families, not to mention middle-income types and retirees who can't afford $100 hockey tickets, or just like to sit outdoors for a restorative nine innings on a summer night.
Wolff had a damn solid plan. He didn't promise the moon; all he asked for was consideration and by the looks of it, barely got even that. Normally, when Miles Wolff talks, people listen since he's the most accomplished minor-league sports operator on this continent over the past 25 years. In Ottawa, faced with institutional arrogance and some who just come by their arrogance naturally, he was just an outsider.
This was all politics from the beginning. It was never about baseball. Wolff had Baseball Canada onside. They would have, in the nation's capital, a new home for our national teams, men's and women's. Didn't matter, even though Canada did better in baseball at the last Summer Olympics than in men's hockey at the last Winter Games. Some very smart, very passionate private citizens such as
Carl Kiiffner
of
Ottawa Lynx Blog
talked persuasively about why baseball needs to stay. Didn't matter, since intelligence and passion have no currency at City Hall either.
Wolff talked about a regional rivarly between Montreal, Quebec City and Ottawa-Gatineau. Didn't matter.
At the end of the day, in politics and life one should be judged by how he or she treats the people who don't have to treated nicely. The baseball fans, scattered as they are, don't make up a voting bloc. That doesn't mean they deserved to be allowed to be allowed to go down the drain.
Shame on Larry O'Brien. The Joker came into office just less than a year ago promising change. Inside of a year, he's upheld the sad stereotype of a backwater burg where people with a loser mentality thrive miserably as sports stadiums sit empty. Brilliant.
(Please leave any comments over at
Ottawa Lynx Blog
, which fought the good fight -- and still has some left.)
Hopefully some friendly councillors can be a voice of reason for us.
That's all for now. Send your thoughts to
neatesager@yahoo.ca
.