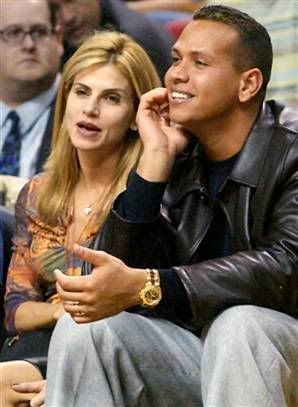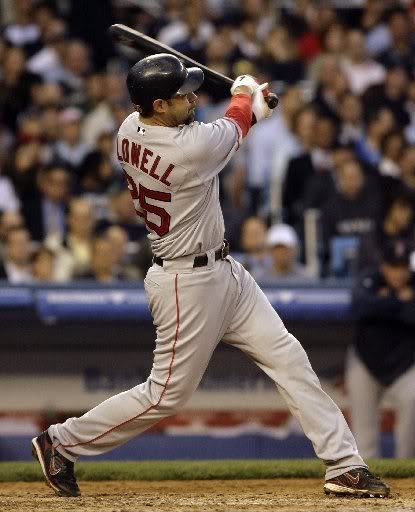 Memorable items from a series that wasn't...
It must be nice to be Mike Lowell. Win World Series MVP and collect your second ring in five years -- all while knowing you might be kicked to the curb so the Red Sox can bring in free agent Alex Rodriguez.

Lowell will be crying all the way to whatever bank he plans to buy after signing a big free-agent contract.

(As for A-Rod, no wonder he likes the strippers. They have a lot in common -- he's also better as a fantasy than in everyday reality.)
A-Rod going to Chicago would be worth it just for the joke construct. "Some trade: The Yankees lose A-Rod to the Cubs and get Hilary Clinton in return."

It would really be worth it to Tribune Co. before it sells off the Cubs.
Expect a column in the Toronto papers about why the Jays should sign Lowell and cut bait with alleged resident 'roidoid Troy Glaus any day now.

The Boston Globe pointed out that the Red Sox have been prescient when it came to being hard-hearted with the Idiots from '04. Check out how Pedro Martínez, Johnny Damon and Trot Nixon have all tailed off and been less effective for the teams they joined after being jettisoned by Boston. Lowell will be 34 next season -- he's two years older than Glaus -- and a lot of the players who are most similar to him really went downhill abruptly around that age.

It's not that simple... speaking of which, Joe Morgan just said on ESPN Radio that the Sox should re-sign Lowell, so now you know they won't.
John Lester's road to being the winning pitcher in the deciding game of the World Series actually gained momentum in Ottawa on May 19. In his first start of a rehab stint that night, he threw 3 2/3 scoreless innings for Pawtucket vs. the Lynx in a 4-0 victory.

That night, Jacoby Ellsbury had a double, triple and a stolen base. Ellsbury, of course, ended up making a game-saving catch at the wall in left field on a drive hit by ex-Lynx Jamey Carroll in the ninth inning.
There's a scene in Talladega Nights when a bartender tells Jean Girard (the gay French F-1 driver played by Sacha Baron Caron) that they keep jazz on the jukebox "for profiling purposes. We also have the Pet Shop Boys and Seal."

Gwen Stefani's The Sweet Escape serves the same purpose for drawing out the latent lamewaddery of bandwagon-jumping fans. It was played, with fans echoing the chorus, during a couple times when the Rockies were trying to stage a rally -- and the estimable Erin Nicks has pointed out, the song was a staple at Senators games during the playoffs too.

(Senators fans, for the record, have not written the book on fair-weather bandwagon-hopping fandom... they're waiting for the team-approved, officially licensed edition.)
The other irony of Lowell/A-Rod switch: On the MLB International broadcast, he proudly gave his hometown as "San Juan, Puerto Rico" when the starting lineups were presented, even though he grew in the Miami. Fla., area.

A-Rod couldn't decide what nation to play for in the 2006 World Baseball Classic -- then probably wished he had a Canadian blood relative. Not judging, just pointing out the contrast.
That's all for now. Send your thoughts to neatesager@yahoo.ca.