Yankees rally, stay alive:
How very Cleveland that the Indians spit the bit.
Chien-Ming Wang
, the Game 4 starter, is tough at home. Cleveland right-hander
Paul Byrd
is a road warrior (3.51 ERA away from home) but did get racked the only time he faced the Yankees. Focus more on Byrd's road ERA if you're a reflexive Yankees disliker.
Red Sox sweep Angels:
Let's see, the aggregate score was Massholes and their
Moneyball
techniques 19, SoCal Small Ball 4 across three games. Take that,
Richard Griffin
of the Toronto
Star
.
Now, no word of a lie, the benevolent employer subscribes to a cable service based out of Montreal that probably has less 1% of the Ottawa market (actually, our office might be the
one
). That meant Sportsnet's
snafu
that replaced the Red Sox and Angels with, wait for it, a swimsuit competition and a NFL game that had only one touchdown scored didn't affect us. Sportsnet is funny, but it's more the
Elayne Boosler
"God love her, she's trying" funny.
SATURDAY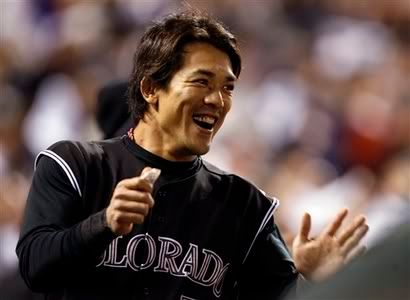 Rockies complete sweep of Phils:
It's the thrill of a lifetime for the folks in the Mile High City who have been raving, diehard baseball fans since a week ago last Thursday.
Seriously, the Rockies had an announced attendance of 19,161 on Sept. 16, the day this unconscious 17-of-18 roll began. To think that fans in Toronto and Ottawa are considered bandwagon types. Sorry, just pointing out.
Early gut feeling is to take the Rockies in the NLCS based on having a more disciplined lineup, along with roughly similar pitching and bullpen strength to the Diamondbacks.
Diamondbacks sweep Cubs:
The script everyone's supposed to be sticking to about feeling sorry for Chicago must have got lost in the mail. Teams with eighty-five wins don't deserve to play for a championship of any calibre. The Diamondbacks could be last season's Tigers, what with the youthful enthusiam, lights-out bullpen and near-total lack of plate discipline.
Oh, and spare the sympathy for the long-suffering Cubs fans. On some level, they asked for this, they want to thrive miserably and help give TV networks an obvious storyline. That's going to be saved for the book, though.