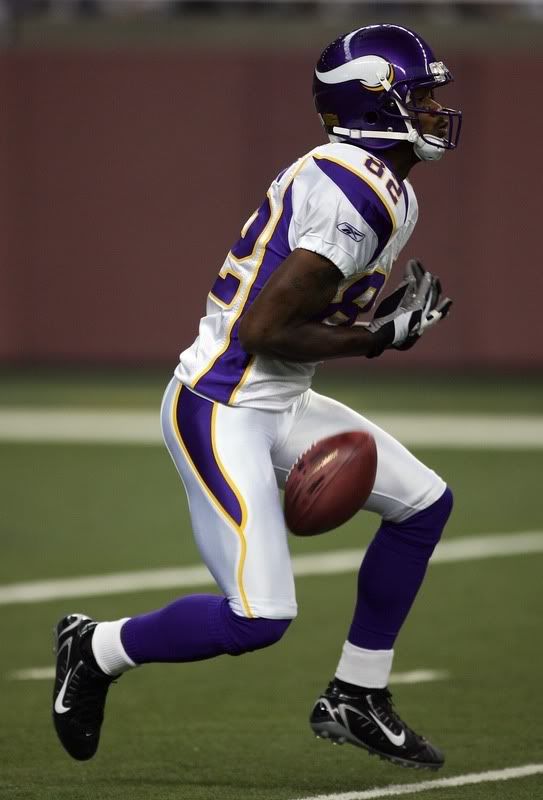 Story of a Sunday in the NFC Norris:
It takes a lot more than Ryan Longwell honking a game-winning field goal at the buzzer and a concussed Jon Kitna catching his own pass to set up Detroit's winning points in Minnesota's eight-kinds-of-ugly 20-17 loss to take the piss out of a veteran Vikings fan. Who even knew that J.T. O'Sullivan, who couldn't beat out Brooks Bollinger to be a Vikes backup in 2006, was even on the Lions, let alone would come in and keep Detroit in the game? That was a good twist, God.

The Vikes had no offence, but that's hardly new. Losing to the Lions is all part of the plan to protect a high spot in the 2008 draft and keep Matt Millen in the Detroit GM's office.

(OK, it sucked. Daily Norseman found the perfect YouTube clip to capture Vikes rage.)
Saw Brett Favre's statline in Green Bay's blowout of the Giants -- a Brady-like 29-of-38 for 286 yards, with three TDs all on red zone plays and no interceptions -- and wished there was some wine in the fridge, like a slightly sweet Riesling that usually goes well with an especially smug mood. Favre's never been a touch passer and he's not going to start now, which means he'll keep this for only so long before he starts trying to throw like it's 1996.

Ah, who's kidding who? This Huck Finn in shoulder pads is gonna dog Vikings fans forever.
The Bears winning despite Rex Grossman (again). It's getting old, but having to rely on Devin Hester's returns to provide offence can't last forever. No one's going to kick to him if this keeps up.
That's how it looks after drinking the Purple Jesus juice. Oh, condolences to anyone who took the Bengals in a suicide pool.