Thursday -- Jays 2, Yankees 1:
Too low-scoring, this win... throw it back.
Scott Downs
finally got a chance to throw in the ninth inning and did you see what happened? He got three outs!
Wednesday -- Yankees 4, Jays 1:
No peace to be had tonight -- the game was over in the first inning after the Yankees cashed in a pair of two-out walks, and
Mike Wilner
wasn't on hand to edify us due to being off for Rosh Hashanah.
J.P. Ricciardi
was on the FAN 590 post-game show and said
John Gibbons
will be the manager next season. Obviously, he's not going to come right out and say a change in the works, but the topper was
Roger Lajoie
(a poor fill-in) saying that was great and that Gibby "has a lot of fans. They're just not the ones who are calling in every night."
Oh, the classic silent majority argument. Sure. If there really is anyone who has this mythical good argument for why Gibbons should manage the Jays next season, nut up and call in. The call screeners will wave you right in.
Troy Glaus
has been shut down. Speaking of which, read the
Yahoo Sports!
exclusive about baseball's apparent reluctance to cooperate with a steroids investigation. Of course, baseball can't act quite as unilaterally as the NFL; that's the reality of having a real union to protect the players' basic rights.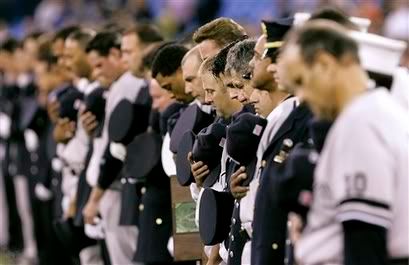 Tuesday -- Yankees 9, Jays... ah, to hell with it:
Good thing
Mike Mussina
pitches the second game of this series for New York... he would have complained that the pre-game 9/11 anniversary grief porn-fest threw him out of his rhythm.
The less said about tonight the better. Did anyone notice the final total for the Yankees was
nine
runs on
11
hits. 9-11, get it? It's almost shocking that didn't cause the TV announcer who shall remain generic as a public service to cry on air, the way he was going on about the anniversary all night long (granted, in a blowout, the conversation can stray).
Whatever happened to giving people the dignity to deal with grief in private? It's offensive to keep pushing this down everyone's throat and it trivializes what thousands of people as individuals went through to hold some first-ball ceremony. All it does is stir up anger. The way it's remembered here is that in the fall of 2001, there was a lot of soul-searching and looking inward.
Maybe our lives were trivial, trite and meaningless and something should be done about it (this is written with a full awareness that it's ironic to point this out on a
blog about sports
). Yet all our corporate and political leaders could do was mouth focus-grouped platitudes, stoke our worst fears and say, "Go shopping."
Nothing changed... our lives became even more trivial. What was on TV at the same time, on a channel owned by the same media giant whose sports channel was showing the Jays and Yanks? The season finale of
Canadian Idol
. No irony there.
Wednesday, 7 -- Yankees righty Mussina (8-10, 5.51, 1.50 WHIP) vs. Dustin McGowan (10-8, 3.90, 1.21 WHIP):
Mussina hasn't gone past the sixth inning in a month, so he should breeze through seven solid no problem.
THE LOVE-IN FOR McGLOVIN
The best reaction to the news the Jays
gave
shortstop
John McDonald
and his alleged bat a two-year, $3.8-million contract is to accept it with conditions.
Giving nearly $2 million per year to McGlovin' is settling, pure and simple. What team gives a 32-year-old who's roster flotsam and can't hit for sour apples a multi-year deal because he works hard? Did
John Ferguson Jr.
win first prize in the Rogers Run The Jays For A Day contest and show up on Tuesday to collect it?
Sorry not to buy in to the feel-good story of the season. If I wanted heartwarming stories, I'd watch the Slice Channel. There's tons of similar players in Triple-A who tug at the heartstrings since they are very good at baseball, just not good enough. Instead of love-in for McGlovin, it should be a
like
-in.
Anyway, first condition: The Jays explain why they are giving up so easily in the search for middle infield help. The market is thin, but why not deal from strength (pitching) for a prospect (
Astrubal Cabrera
) or someone who needs a change of scenery (
Josh Barfield
)? Is there that much fear of putting
Aaron Hill
at shortstop? Is McDonald really $1.4 million better than
Ray Olmedo
?
(The Dodgers'
Rafael Furcal
is not necessarily an answer... he's having a lousy year and his home/road splits suggest he's hardly an antidote for a team that can't win on the road.)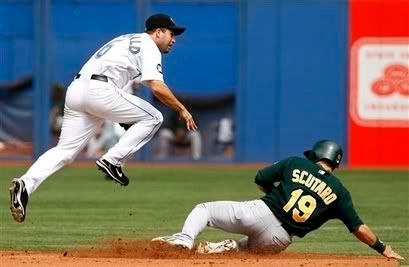 Second condition: Admit the timing is a bit curious, coming hours before the first home game since the
Troy Glaus
performance-enchancers bombshell hit the news. (Glaus might not play tonight, though.)
Third condition: Demanding better than league-average production in 2008 from 6 of the other 8 slots in the lineup instead of the
current 1 out of 8
.
Last condition: McGlovin has to catch a fly ball in his cap.
Hopefully, this is just a tempest in a retro blue-and-white Jays cap. It's 2% of the team payroll, but it also reeks of being a give-up play. Fortune favours the bold, J.P.