Wednesday -- Orioles 8, Jays 5:
Our only demand was that the Jays would be able to hold a lead and keep the game relatively interesting only until the season premiere of
The Office
came on at 9 Eastern, and they did so. Chalk this up as a moral victory.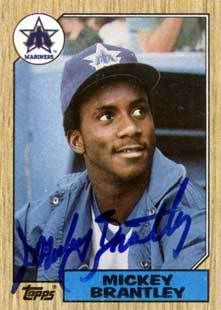 Tuesday -- Jays 8, Orioles 5:
Jays fans and on-his-way-out hitting coach
Mickey Brantley
will always have this endless summer of 2007.
We will always be wistful about long, sultry nights of seeing runners left on base all night long,
Roy Halladay
throwing complete-game losses due to a total lack of run support and
Aaron Hill
and
Vernon Wells
flexing their warning-track-power muscles. Then there's Brantley's woe-is-me whine in Tuesday's
National Post
, "All the guys that stayed healthy this year had pretty good years."
Yeah, that would be
Matt Stairs
.
One guy
.
Alex Rios
has the same park-adjusted OPS (118) that he had in 2006. Hill's walk-to-strikeout ratio has gone from being close to 1:1 to 1:2.5 (40 walks, 102 whiffs) this season, oh, but hey, he's going to break
Roberto Alomar
's club record for homers by a second baseman.
Then there was this on
Chuck Swirsky
's Fan 590 show (good catch by
Drunk Jays Fans
): "I went from having the best year in the history of the Toronto Blue Jays last year, to this year, with all sorts of injuries -- whether they're excuses or reasons."
Too funny. Brantley played four seasons in the American League, 1986 to '89, and the Jays were respectively second, third, fourth and third in runs scored in those seasons. Last season, in "the best year in the history of the Toronto Blue Jays," they were
seventh
. They weren't even that good last year.
Seriously, it's anticlimactic to read that Brantley
is outta here. He hasn't been mentioned here since
July 29
, almost two months ago. The topic of his employment had been exhausted since it was so freaking obvious that he was a goner at the end of this season.
The game was over (despite
Russ Adams
' best efforts) after the Jays' eight-run first inning against their ex-mate
Victor Zambrano
. The Jays had so many runners circling the bases that Brantley probably said, "Ah, I'm getting dizzy. I'm gonna go back inside and take a nap." The only drama was how many names TSN's fill-in announcer
Gord Miller
would get wrong and how many times he would refer to his BFF,
Sidney Crosby
.
(Answer: He called
Ramón Hernández
"Ramón Martínez" and managed not to talk about Crosby. On the whole, Gordo didn't do a half-bad job.)
Monday -- Jays 11, O's 5:
Two doubles and a single in four times at bat helped
McGlovin
push his OPS over the mythical .600 barrier. Man, he was a bargain at $2 million per year!
That's all for now. Send your thoughts to
neatesager@yahoo.ca
.