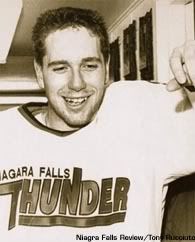 The late Bryan Fogarty, forever star-crossed, has popped up in a few news items the past week, mostly
in connection
with another OHL defenceman, the Windsor Spitfires' Ryan Ellis, who 20 years after Fogarty did so by scoring a mind-bending one hundred fifty-five points in 1988-89 -- but in Niagara Falls, not in Kingston -- is in the early running to win the OHL scoring title.
Kukla's Korner
is also reporting that Dave Bidini, of Rheostatics fame, has a song about Fogarty on his upcoming album. From Sept. 19, 2007, here's a recollection of a player who still haunts puckheads all these years later.
Kingston Frontenacs nostalgia is kind of a misnomer. Few want to be reminded. But our favourite OHL team got it right by choosing to retire the number 17 of former captain David Ling (near right) before Friday night's home opener vs. the Belleville Bulls.

Ling, now 32 and a long shot to make the Leafs after playing in Russia for two years, will be the first Kingston junior to have his number retired. Ling was a big part of two of the best teams to ever grace the Mem Centre when myself and co-blogger Neil Acharya were in our formative years, the 1992-93 and '94-95 clubs. To this day, those are respectively the only Kingston OHL team to ever get by the second round of the playoffs, and the only one to ever finish in first place.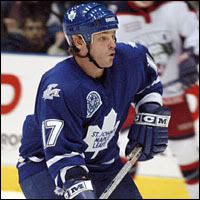 There are dozens of David Lings in junior hockey. He was a scrappy little Dale Hunter-type, wore the C as team captain and he was universally loved. (He was also a Maritimer who came to Ontario in the era before the QMJHL expanded into Atlantic Canada.) His story is one that can be easily understood, so why not start a season-long nostalgia trip by honouring him?

Thing is, as ex-Kingston juniors go, Ling doesn't dog a sports nut late at night. There were so many like him. There was only one Bryan Fogarty (far right), one of hockey's greatest human tragedies, remains the guy, some five years after his heart gave out in a Myrtle Beach hotel room, it's the memory of him that gnaws and nags.

There is no historical parallel, no time-sensitive reason for why anyone should have Bryan Fogarty on the brain, but it's in keeping with something another Kingston type, Gord Downie, once said during a song intro: "For something to be great, it has to have moral complexity."

Fogarty's greatest moments, of course, came in 1988-89 when he was breaking Bobby Orr's records with the Niagara Falls Thunder. He had that one year where he was able to keep it together and show why he'd been the No. 1 overall pick in the midget draft by the Canadians in 1985, why the Québec Nordiques drafted him No. 9 overall two years later (and waited to take Joe Sakic with their second first-round pick). To someone who was a kid then, as Neil and I were, all we ever knew was that all of a sudden, this guy who'd played three years in Kingston with the Canadians, some poor teams, including the infamous 1987-88 crew that lost twenty-eight games in a row, was tearing up the OHL. He was kind of like a Mark Fidrych of hockey — this fun-loving kid who had this one splendid season.

Chances are, there won't be many mentions of Fogarty during all the retrospectives done on the Kingston team's 35 seasons in the Mem Centre. Something should be done, but how does a team acknowledge one of hockey's human tragedies? Moral complexity. If Fogarty had been struck down in a car crash or by a rare disease, it would be simpler. Instead, his diseases were much more common and ones (alcoholism, social anxiety) that, in his time, people didn't fully understand as not being self-induced.

The Kingston Canadians don't exist, the Niagara Falls Thunder don't exit, the Nordiques don't exist. Nor do most of the teams Fogarty played with during his curious pro career — Las Vegas Thunder, Minnesota Moose, you name it. Still, how do you mark 35 seasons of OHL teams playing at the Memorial Centre without mentioning the most gifted player who ever put on the sweater of Kingston team in that time?

Related:
Wasted (Eric Adelson, ESPN The Magazine, Sept. 18, 2002)

That's all for now. Send your thoughts to neatesager@yahoo.ca.