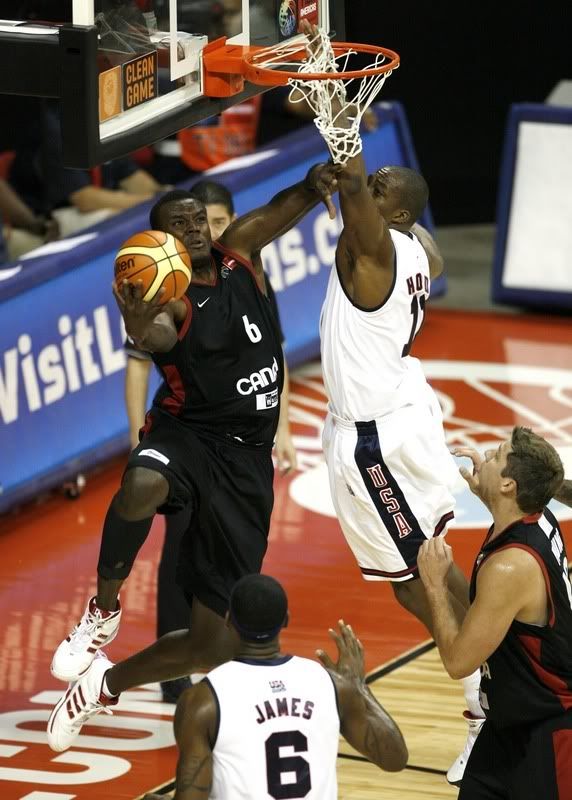 As you contemplated which faculty you're going to say you have tenure in when you crash that frosh week kegger...
Canada rolling snakes-eyes last night at the FIBA Americas -- they settled for fifth place and a spot in next summer's last-chance Olympic qualifier after losing by six to Puerto Rico -- just left was a general bereftness. Our guys had it in their hands (then came the forced shots, missed freebies, too many open looks for three allowed), but considering Canada Basketball has been accused of being a gong show for several years, why is it such a shock when our team's best effort isn't enough?

Cathal Kelly's column in yesterday's Toronto Star about how Australia turned around its men's soccer with "scorched-earth" approach is a good companion to any of today's Canada Basketball coverage. Kelly's writing about Canada's soccer woes, but it's almost like hoops could have been subbed in.

Keep an eye on the Eurobasket tourney that begins in a couple days to see if any top teams get upset and have to go into next year's qualifier.
It's not 1978 over again. Cool Standings has the Massholes winning the AL East by six games over the Evil Empire, despite the sweep. That site also figures that odd-on the National League won't have a 90-win team.
New rule: No ranting about David Beckham signing (his knee's buggered) unless you can name whateve was the worst signing in MLS history previously.
It's official: The Kingston Memorial Centre really is straight out of Siberia. Frontenacs forward Cory Emmerton told CP that he's not worried playing in a humid arena in Omsk in today's Game 3 of the so-called Super Series: "I'm kind of used to it in Kingston where I play. There's no ventilation there either so it's always foggy this time of year."

What's are cynical bastards with a Kingston connection going to do when that place is finally torn down?
What's going on in women's hockey? First the NWHL (which had a team in Ottawa) went on hiatus. Now there's no host city for the women's under-18 worlds, which Canada is set to host in January. People mock the WNBA, but it draws 14,592 fans for a playoff game, the players make enough to live on. Meantime, the women in Canada's most popular team sport are left out in the cold. Of course, Gary Bettman has enough trouble getting that many people into some NHL arenas to worry about providing women's players with opportunities the way David Stern did.
That's all for now. (In case anyone's wondering, the Phoenix Mercury beating the San Antonio Silver Stars most definitely does not make up for what happened in the Suns-Spurs series.)