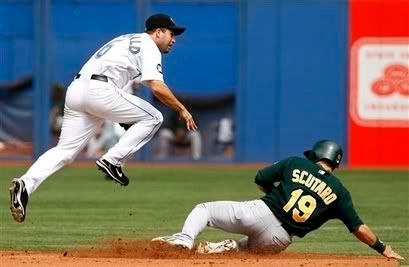 Sunday -- Angels 3, Jays 1:
The scrutiny devoted to
Gregg Zaun
is bound to pick up a little more after he popped out with the tying run aboard in the sixth and had a throwing error on a stolen-base attempt that allowed L.A. to tack on an insurance run.
Zaun, coming into today's game, had a .690 OPS as a catcher — below league-average for his position. Is that what fans should settle for?
Saturday -- Jays 9, Angels 2:
Consider that a market fluctuation, the Jays putting up nine runs and the Angels'
Maicer Izturis
and
Howie Kendrick
pulling a rock on the bases.
Izturis made the last out of the fourth inning at third base. Lo and behold, it cost the Angels a run since Kendrick had somehow managed not to touch home plate by the time Izturis was tagged out.
(Does anyone remember a
game
at old Exhibition Stadium in '88 where that scenario -- runner gets tagged out at third for the third out just as a teammate was reaching the plate -- happened once on each side?
Lloyd Moseby
took his time getting home, only to have
Fred McGriff
thrown out at third; a few innings later, the same thing happened to the Tigers, but the run counted. Fortunately for the Tigers,
Matt Nokes
, a catcher, on that night, could get from second to home faster than the Shaker.)
Let the record show that
Mike Wilner
had a pretty savvy caller (looking at you,
The Tao of Stieb
) call in to suggest a trade that's semi-halfway close to plausible:
Adam Lind
and a pitcher for Cleveland shortstop prospect
Asdrubal Cabrera
.
Cabrera, who's 21, has put up an .837 on-base plus slugging in the pitcher-friendly Eastern League. Unlike
Sergio Santos
, his long-term destination is actually shortstop -- words such as "Gold Glove candidate" are being
bandied about
.
Look, more people calling in to advocate for
John McDonald
to play every day -- one guy compared him
Tony Fernandez
as a young hitter. Our head's about to explode.
Friday -- Angels 3, Jays who cares:
At least
Roy Halladay
wasn't half bad after piling up a big pitch count in his last out -- the hitters were bad in full, but what else is new?
What was with starting seven righty hitters vs.
Jered Weaver
, who is getting raked at a .300 clip (.773 OPS) by left-handers? (Righties are hitting .258/.717 against him.)
Sunday, 3:30 -- Angels righty Kelvim Escobar (14-6, 2.85, 1.19 WHIP) vs. Dustin McGowan (8-7, 4.19, 1.29 WHIP):
Be wary, very wary -- the Jays don't hit their old friend very well.
Thursday -- Jays 5, Angels 4:
Our
earlier suspicion
that great-field, no-hit shortstop
John McDonald
(pictured)
wears the championship belt as the Toronto's most beloved marginal pro athlete has been confirmed.
He didn't even play in this game and still was Topic Du Jour on the post-game show. It's teeth-gnashing to this A-hole baseball know-it-all to see the respect for Johnny Mac's great fielding get dumbed down. (
Drunk Jays Fans
was on about this a while back.) He hasn't played enough to be a Gold Glove candidate.
Every sports city has this phenomena, but in Toronto there's a functioning ideology that venerates the likes of
Bill Berg
,
Tie Domi
,
Matt Bonner
,
Lou Franschetti
(who was actually recognized at the Maple Leaf Gardens closing ceremony) as part of a grand cavalcade of adequacy. People twist themselves into half-baked pretzels trying to argue the greatness of someone who's merely good. Why can't they just nut up and admit it's safer to identify with John McDonald and his limited skills? That way, you never get hurt the way you do when you align yourself with a player fow whom the sky's supposed to be the limit
(see Culpepper, Daunte; and Moss, Randy, Minnesota Vikings 1999-2004)
. Hey, it's human nature.
People who should know better are trying to convince themselves McDonald can do the job and trotting out Grade 7 arguments. Some stugots called in to The Fan 590 and asked
Mike Wilner
why the Jays can't put up with McDonald's hitting since, well, National League teams put up with pitchers batting in the No. 9 spot.
Guh.
Maybe because they play in the American League with the designated hitter rule?
For pity's sake, tonight Sportsnet's
Rance Mulliniks
managed to work in a contention that Johnny Mac "doesn't get a lot of credit" for his fielding and
McDonald wasn't even playing
.
The irony is that the
most valuable
defensive shortstop in the American League, the Angels'
Orlando Cabrera
, actually was on the field tonight. Not long after Mulliniks' comment, Cabrera made a Gold Glove play, dashing into the outfield to catch a little looper that had more spin than a
Roger Federer
topspin forehand at Roland Garros. The Sportsnet guys noted it was a nice play, but didn't mention anything about a Gold Glove.
The other kicker to this is that the Jays actually have a Gold Glove candidate in the infield in
Aaron Hill
, who's
right up there
among American League second baseman.
Oh, and we love John McDonald's defence too. The reality is, as Wilner pointed out, he's by far the worst hitter among all shortstops with 200 plate appearances.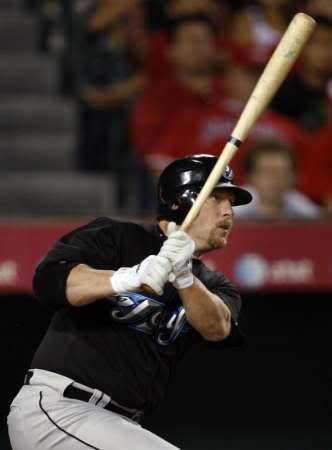 Right, there was a game:
Young
Jesse Litsch
was good enough and fortunate against the majors' best home team.
Two Angels lefty-hitting regulars,
Chone Figgins
-- who's hotter than the creators of
Superbad
this week -- and
Casey Kotchman
didn't play. Left-handers were raking Opie for an .830 on-base plus slugging coming into the game. This win was the great organizing principle looking down beneficiently and saying, "Awwwwww, what the hell, these guys deserve a break, we've been messing with them a lot lately."
How else to explain
Matt Stairs
capping some two-out lightning (four straight hits in the fith) with a go-ahead two-run double? He's
only supposed to be good
for "an occasional Stairs long-ball." Some smart guy said so!
That's all for now. Send your thoughts to
neatesager@yahoo.ca
.