Thursday -- Twins 8, Jays 5:
When
Frank Thomas
connected for his 500th home run, Rogers was showing the same
Sportsnet Connected
that had been in a continuous loop since the pre-dawn hours. Nice work.
None of the Jays three TV partners was there to chronicle it, which is just nuts considering the Jays have hyped Thomas' countdown to 500 for weeks. Regardless, the game was only available to Rogers Digital subscribers, who got the local Minnesota broadcast on a free preview channel. (Nothing against those guys, they gave the feat the proper attention, but I've also seen about a half-dozen Twins regional broadcasts this year and still can't remember the play-by-play guy's name, he's that vanilla.)
True, it's an afternoon getaway day game, unlikely to get as big a rating as a weekend game vs. the Yankees (remember when the Jays used to have those?), but couldn't Rogers adjust the schedule, seeing as it owns the Blue Jays, for pity's sake. To add insult to injury, the game unravelled fast on the Jays.
A.J. Burnett
went berserk over a few ball-and-strikes calls by home plate ump
Mark Wegner
, which led to Thomas himself and
John Gibbons
also getting run in the all-but-the-crying stage of the game.
Talk about brutal; this and Gibbons blowing Tuesday's game, which was much more egregious, left the Jays with a split against a weak-hitting Twins club that didn't throw
Cy Young
in the four-game series.
At least Rogers' oversight meant, in theory, that more dedicated Jays fans had to tune in on the radio and hear
Jerry Howarth
call it: "... and listen to that ovation." There's the rub -- a lot of people could only listen to it.
Wednesday -- Jays 5, Twins 3:
For one night, it was great to be young and a Jays fan.
Josh Towers
goes six-plus innings to earn credit for a win -- he had the "at them" ball working. Meantime, an accredited baseball writer on the
Yankees beat
whose name shall be withheld here as a public service actually suggested
Shea Hillenbrand
would be "worth the shot" for the Yankees, given their first base woes.
When someone chronicling the Yankees actually believes SFH and his 600 OPS could help, that run of 12 straight playoff appearances is about good as done. (Oh, and we kind of
half-joked
back in spring training about what S.F.H. could do for
A-Rod
if they ever became teammates.)
S.F.H.'s latest departure, being designated for assignment by the L.A. Angels, isn't his own fault, of course, just like it wasn't his fault when the Jays turfed him last summer (and flipped him to the Giants for
Jeremy Accardo
, who delivered a four-out save Wednesday night). It's a matter of philosophical differences -- namely, the Angels' philosophy is that a .254 average with nearly no power or walks doesn't cut it for a corner infielder making $6 million.
(Last time
Hardball Times
did an update, S.F.H. had earned minus-2
Win Shares Above Bench
. In other words, the Angels could have given his playing time to some random rookie or Triple-A callup, and got more production for about 5-10% the salary.)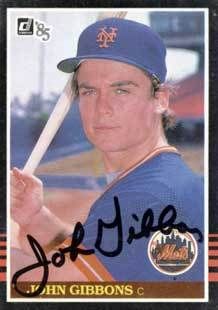 Tuesday -- Twins 2, Jays 1:
In extra innings, it's the manager's game. The Texan flat-out frittered away a tight game while having his best reliever,
Casey Janssen
, throw only two pitches and his second-best, Accardo, never pitch at all.
This actually happened.
It was shock enough to see
Jason Frasor
come in for the Twins 10th after C.J.
coaxed a double-play ball from his only batter,
Michael Cuddyer
, to end the ninth inning. Then Gibby The Genius topped that by turning over the 1-1 tie to
Brian Tallet
in the bottom of the 12th. Perhaps the same thing happens (the Twins worked across the winning run with three singles, the last by consummate professional hitter
Jeff Cirillo
with two out) vs. Accardo or Frasor, but the logic is baffling. You always put off using your weaker pitchers as long as possible.
How is that the manager could be more worried about having to turn over a lead to Tallet and/or
Brian Wolfe
than having one of them protect a
tie
, where there's a slimmer margin for error? Why preserve Accardo for a save opportunity that might never come? The answer is to that is three words long, and two are
cover
and
arse
. It was like he was afraid to go against convention.
It's possible that the Jays still lose if Janssen pitches through the 10th and/or Frasor comes in for the 11th. There should be no shame in losing a game that had great pitching and defence on both sides. (True, the Jays had only four hits, but after scoring 50 runs across the previous seven games, they were due for an evenout.) Instead, Gibbons failed to pull out all the stops, it led to the Jays losing, and in the words of
Renee
from
Mallrats
, "... and I go to sleep unfulfilled."
Arrrrgh
.
(Let's see what the good people at
Fire Gibbons
will have to say.)
Monday, 8:10 -- Jays 7, Twins 5:
It's officially a roll when
Adam Lind
and
Matt Stairs
are robbing the other team of hits and runs.
Stairs also hit the game-winning homer in the eighth, putting the Jays on their way to being a game above .500 -- and bringing the bandwagoners out of their 2 1/2-month stint in an undisclosed location to start talking about wild card. That's about two weeks premature -- six games out of the wild card on June 26 is like being 12 out in the division, since it involves leapfrogging three or four other teams.
The only problem with Stairs' two-run homer in the eighth was that since
Rod Black
and
Pat Tabler
were really rolling along in their nine-inning rhapsody to small ball and how the Twins play like a National League team with all the bunting and basestealing.
True, that's the common belief, but this season American League teams
on average
have 45 steals, to 42 for those in the Quad-A league. After the Nye Mets, the next four most prolific teams in base thievery are each from the AL. Six of the
bottom
seven play in Quad-A -- of course, the one there is the Jays. Black and Tabler are smart enough guys, so why don't they say something that reflects some research? Besides, if anyone wants to go back to 1917 so they can live in the Dead Ball Era, that would also mean living in an age before penicillin. Sounds like fun.
Anywho,
Roy Halladay
fought through and the Jays got the breaks the team with the better pitcher should receive. Twins starter
Kevin Slowey
would have an easier time throwing his lukewarm fastball through the eye of a needle than busting it past a right-handed hitter on the inside corner.
CBC slow off the mark?
The
Toronto Star
's
Chris Zelkovich
touches on a good point in his column today, criticizing the CBC for underplaying
Dustin McGowan
's bid for a no-hitter yesterday. It segues into whether the tradition of baseball announcers being coy when a pitcher has a no-hitter going really jibes with our short attention span society. It likely made sense in 1955, when there was an expectation people would follow the whole game, but these days, people will flip to another channel if there's no evident reason to stay with the game.
At the same time, people should be able to pick up on it themselves. This is the snob argument: Shouldn't people figure out by the reaction of the crowd to each out and the tone of the announcers that something extraordinary is happening?
(According to a comment left at the thread for the
Rockies series
, Hughson did mention it: "No sooner had he opened his mouth and puked out the jinx, then BOOM! Jeff 'I hit .239 because that's how I roll' Baker breaks it up.")
That's all for now. Send your thoughts to
neatesager@yahoo.ca
.