In this
ex-U.S. college football fan's
eyes, there's nothing wrong with the NCAA's
bowl season
that eliminating about half of the current 32 bowl games wouldn't fix.
Seriously. Thirty-two bowls. Like that other contemporary plague, reality shows, there's likely to be more before there's less. More than half the teams in the NCAA's highest division get to play in a post-season game, even teams that went 6-6. We haven't seen mediocrity rewarded like this, since, well, take your pick:
a)
Helen Hunt
won an Oscar for
As Good As It Gets
;
b)
George W. Bush
appointed
Michael
"Brownie, You're Doin' a Heckuva Job"
Brown
director of FEMA;
c) The first time a record company lowlife told
Chad Kroeger
and Nickelback, "Here's my card."
Like reality TV, though, you'll inevitably end up watching a few of these pointless exercises. Canadians are especially vulnerable since TSN, Sportsnet and The Score always air a few of these games as a change of pace from showing the Australian Women's Poker Tour. You flip by it, you see football, you see a way out of talking to family, and before you know it, you're hooked.
Proceed with caution, however:
1. MPC COMPUTERS BOWL: MIAMI vs. NEVADA, Dec. 31, Boise, Idaho
Call this the Schadenfreude Bowl. Miami, still mouthy if no longer mighty, has fallen so far they've been banished to spend New Year's Eve in the BFI (as in Boise Friggin' Idaho), where the stadium has, I kid you not,
blue
Astroturf.
The average daytime temperature in Boise around that time of year is about 40 F less than Miami. Sucks to be you, Miami.
On the plus side, as SI.com's
Pete McEntegart
puts it, "The Hurricanes are excited; they've never gotten into a brawl on blue turf before."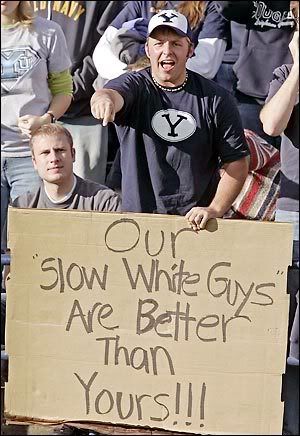 2. LAS VEGAS BOWL: BRIGHAM YOUNG vs. OREGON, Dec. 21, Las Vegas
Skip the joke about how Mormon-affiliated BYU is playing in a bowl in Vegas, a place guys go to get away from their wives... it's too obvious.
Still, wouldn't it make more sense to have Miami and Nevada tee it up in Vegas, not Boise Friggin' Idaho? Let BYU and their fans ring in the New Year in the BFI. It can't be too different from Provo, Utah.
As for the Nike-bankrolled Oregon Ducks, their
garish uniforms
should go in perfectly with the Vegas scenery. After all, neither was created with good taste in mind.
This does have good game potential. BYU and Oregon have long been known for high-octane offence and little to no defence, so this could be a 55-52 triple-overtime game.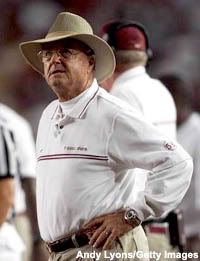 3 (tie). EMERALD BOWL: FLORIDA STATE vs. UCLA, Dec. 27, San Francisco
Talk about a game that no one outside of the coaches, players, boosters and ESPN would miss if it was cancelled due to an anthrax scare -- although the Seminoles' octogenerian coach,
Bobby Bowden
, losing his bearings and wandering over into San Fran's Castro St. area ("It's full of
what
?") could make for a great halftime feature.
Florida State lost six times this year -- that used to be half a decade for St. Bobby and his barbarians. Back in the day, the payout for this game -- $750,000 U.S. -- wouldn't even have bought FSU a starting outside linebacker.
As for the UCLA Bruins, quarterback
Patrick Cowan
had a career game in UCLA's upset of Southern California last Saturday. Why not just let Cowan and Co. quit on a high note after sparing us from another Southern Cal title-game appearance? Their best work is behind them.
3 (tie). INDEPENDENCE BOWL: OKLAHOMA STATE vs. ALABAMA, Dec. 28, Shreveport, La.

My sweet lord, they're sending a pair of 6-6 teams to play down in Louisiana, barely one year after Hurricane Katrina. Haven't the people down there suffered enough?
Let's see. Alabama has fired their coach,
Mike Shula
. Oak State was 92nd in Division 1-A in total defence. Good job getting in the top 100, Cowboys.
4. OUTBACK BOWL: PENN STATE vs. TENNESSEE, Jan. 1, Tampa Bay
Time was, you had to win your conference, come damn close or be a top independent to play on New Year's Day. Once in a while, mediocre outsider teams -- like the '94 Oregon Ducks, who got to Rose Bowl -- crashed the party, but at least they won
something
.
Tennessee and Penn State, with a combined seven losses, have no business playing on Jan. 1. The Vols were never a serious threat to even play in their conference championship game. Penn State tied for
fourth
in the Big 10.
Oh, but Tennessee and Penn State have other things going for them, namely "tradition." College football is all about tradition, even when Boston College and Miami are playing in the ACC and the counterfeit national championship is decided later and later in January each year.
Both the Vols and Nittany Lions are recognizable brands, who have huge and fanatically loyal fan bases who will travel to the host city and spend buttloads of cash. More importantly, they belong to conferences whose clout within the backrooms of the NCAA goes way beyond your or my ken.
Spare the strength-of-schedule and the computer rankings and all that other junk math the NCAA uses to keep the "outsider element" -- teams from the smaller conferences -- on the outside.
No. 17 Tennessee and unranked Penn State are secretly bad teams. Thanks for comin' out, Virginia Tech, Rutgers and Brigham Young. Your 10-win seasons and top-20 rankings are no good when it comes to playing on Jan. 1.
At least this pointless bowl game has an 11 a.m. Eastern kickoff, meaning about three-quarters of North America will still be sleeping off hangovers, or hitting a gym as they get an early start on New Year's resolutions that will be ultimately abandoned by February. And 79-year-old Penn State coach
Joe Paterno
will get out in time to catch the Early Bird Special at any number of Tampa-area restaurants. It's win-win.
5. INTERNATIONAL BOWL: WESTERN MICHIGAN vs. CINCINNATI, Jan. 6, Toronto
There's nothing wrong with playing a bowl game in Toronto. It's just that a game that ranks below the Meineke Car Care Bowl in the NCAA pecking order should not be held just two days before the national championship game. If this game was held on Boxing Day where it belongs, no problem.
Let's see. By the time Jan. 6 rolls around, Western Michigan will not have played in 41 days. Cincinnati will have been idle for 42. Think about how sharp you usually are on the first day back at work after having two weeks off, let alone
six
. The favoured Bearcats are also playing without their coach,
Mark Dantonio
, who decided he'd rather oversee the redocorating of his new office at Michigan State than hang around and coach his 7-5 team in a bowl game.
With the rust both teams will have and their reputations as defensive teams, the first post-season game played in Canada could end in a hockey score: Something like 7-2.
That's all for now. Send your thoughts to
neatesager@yahoo.ca
.