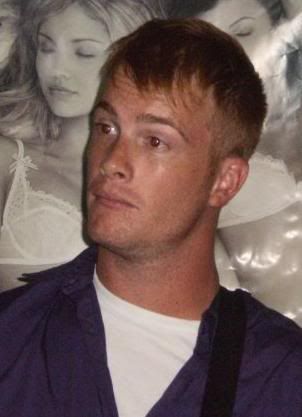 It would not to do to ignore the Big Two-Five of the Official Brother of
Out of Left Field
.
Shawn Sager
is celebrating today, actually more like tonight. The forecast calls for this evening to be
legen
— wait for it —
dary
!
My brother Shawn hopefully will not mind a tacky birthday post. Of all the Sagers, Shawn is most comfortable with being on display, at least judging by the 937 photos of him on Facebook.
Shawn is a person whom everyone wants to know and good tends to come to people who have that kind of charisma. He is making his way in the world and whatever he does, his family is glad that he has seldom let them know a dull moment. He is also the one redheaded guy in the world who tans well.
A 7½-year age gap and being opposing tintypes — a social butterfly and a hermit crab — works against Shawn and I having a lot of shared experience. Shawn bridges that gap because he will walk in and sing, deadpan a line from a movie he just watched, or make a face. Shawn has introduced his uncool eldest sibling to
Jon Lajoie
,
Eastbound & Down
and
How I Met Your Mother
. Point being, the way Shawn lets you in on his sense of the off-beat affirms that there is a lot in common.
You become brothers by chance, but you become Bros by choice. It's great having a sibling who knows the difference. Here's hoping he has fun and that tonight ends with a classic case of guy-on-the-ground. (Ask him about that one.)
In honour of his 25th, here are 25 contributors to the lore of Shawns, whatever the spelling.
Sean Connery:

Probably the coolest man who ever lived.



Shawn Carter:

Better known as

Jay-Z

. Might yet take Connery's title.



Chone Figgins:

A Swiss Army Knife of a ballplayer for the Los Angeles Angels who is up for anything, third base, second base, the outfield. He is leading the American League in bases on balls and runs scored while on-basing around .400, making him a Seamhead's pride and joy.



Shaun of the Dead

:

Hilarious 2004 zombie comedy which re-invented a genre while also respecting what preceded it, like Shawn Sager.



Shawn O'Sullivan:

Canadian boxer who won a silver medal in boxing at the 1984 Summer Olympics, a few weeks before our Shawn was born. The timing of those events makes him my brother's unofficial namesake.

Sager family fact: Our mom was pregnant during three consecutive Summer Olympics. I thought better of mentioning this during a an interview last year with

Greg Joy

(silver medallist in high jump at the 1976 Montreal Games)



Shaun White:

A fellow ginger kid who won a gold medal in snowboarding at the Turin Olympics and apparently is a fan of the movie

Anchorman

. Should not be confused with Sean Whyte (B.C. Lions kicker) or Sean White (Chicago White Sox pitcher).



Sean "Diddy" Combs:

Whatever you think of the arrogance of saying, "It's hard to throw a party that lives up to its legend," it's a statement for the times. That time was Rome just before the fall.



Wallace Shawn:

His life arc reminds us no matter how serious-minded one is, you'll probably be more widely remembered for something on par with

Gossip Girl

, so lighten up already!



Shawn Johnson:

The reason why most North American men who watched the Beijing Olympics are doomed to eternal damnation.



Shaun Marcum:

For his sake, here is hoping he is back in the Blue Jays starting rotation next season.



Shawn Sage:

One letter away from being a member of the family, but with the reddish hair, he pretty much qualifies if he's interested. The Toronto based alt-pop singer has a big enough following to have warranted an appearance on CBC Radio 3.



Shawn Crahan:

Lead singer in

Slipknot

, who turns 40 this month!



Sean Penn:

Those two Academy Award-winning performances come and go, but Jeff Spicoli in

Fast Times at Ridgemont High

is enduring.



Shaun Wright-Phillips:

Midfielder for Manchester City. Shawn was a pretty fair high school soccer player, so this list needed a footballer.



Sean Avery:

Has a lot in common with Shawn Sager. They both spent all or part of their teens in Kingston, Ontario and are fashion-forward with their eyewear.



Shawn Colvin:

Singer-songwriter whose hits include

Riding Shotgun Down The Avalanche

.



Shjon Podein:

Earned a Stanley Cup ring in 2001 with the Colorado Avalanche.



Shawn Marion:

The Matrix!



Chaun Thompson:

Eight-year NFL veteran who has played his entire career with the Cleveland Browns and Houston Texans, which is why his name doesn't ring a bell.



Shawn Graham:

Premier of New Brunswick, where our Shawn lived for a time.



Shean Donovan:

Current Ottawa Senators winger was not in Shjon Podein's league in either spelling or hockey playing, but we need 25 for this list.



Sean Young:

Amazingly, the

Blade Runner

curse is not used to explain what happened to her career.



Shaune Bagwell:

Never heard of her before Monday, but apparently she is a "classically trained ballerina" with a "genius-level IQ," a handful of screen credits and a swimsuit calendar for sale.



Shawn Ashmore:

He played

Terry Fox

in a TV movie!



Shawn Watson:

Offensive coordinator for the Nebraska Cornhuskers. Our sister

Trina

is working in Omaha! We love her equally, of course, but coming with a list of Trinas for her next birthday is going to be tough.