One tries to maintain some privacy and a stiff upper lip ... but readers are owed an explanation if something happens that affects your ability to provide a service to them.
Last week, I wrote an article about Ottawa Gee-Gees basketball guard
Josh Wright
for the Ottawa
Sun
's Jan. 8 edition. It appears that around 3:22 p.m. Eastern time that day, it was
posted verbatim by WTVH
, the CBS affiliate in Syracuse, N.Y., where Wright previously played for the Syracuse Orange. They tried to cover their tracks by saying "Reprinted from Ottawa Sun," but it was not authorized. At best, it's not fair use and at worst it is out and out
plagiarism
. The fact it is was the
third most popular story
as of midnight Sunday (more than their story about the Orange's win Saturday over Rutgers) is cold comfort, especially when it's your work and you're not getting any of the revenues. Not to get on the high-horse, but the facts are on my side.
(
Update, Jan. 12, 5:20 p.m. —
the story has been taken down from WTVH-5's website and its sports director apologized "wholeheartedly" over the phone.)
I wrote posts earlier on the night before teasing the article for this site and for cisblog.ca, lest anyone dispute the timeline. The Kingston

Whig-Standard

, a sister paper of the

Sun

's, also ran the article ("Former NCAA player joins Ottawa," Jan. 9).

It is true that blogs do use other media to provide context for their posts. However, we all take pains to make sure that we are not representing someone else's work as our own. That did not happen in this instance.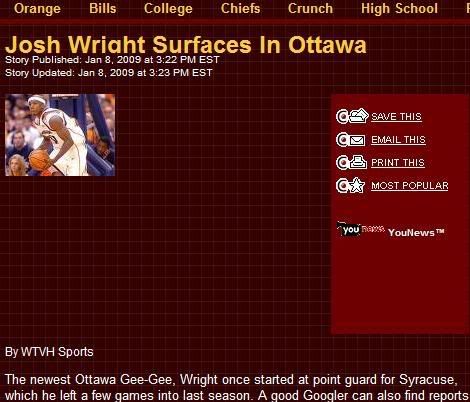 Since when do American TV reporters use phrases such as "non-puck-headed Canadians?" Is that WTVH's target demographic all of a sudden?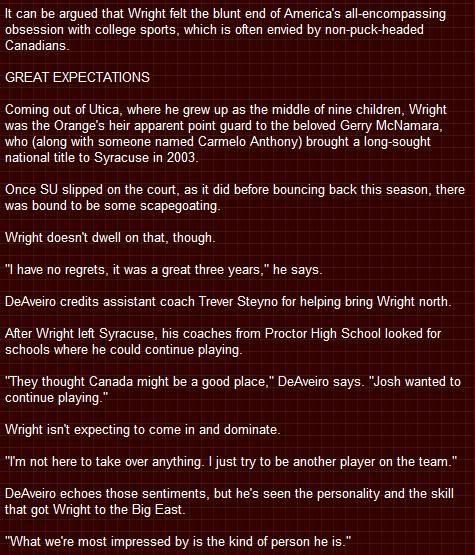 The individuals responsible at WTVH might think they did by saying, "Reprinted from Ottawa Sun," but that is insufficient. At this time, there is not a lot of collaboration and content-sharing between metropolitan newspapers in Canada and network affiliates in upstate New York. Our beats seldom overlap.

Hopefully my ant overlords will talk to their ant overlords, and this will be smoothed out to everyone's satisfaction. I'm pissed off and don't know when that will not be the case.

Thanks for listening. Every effort will be made to carry on and keep on keepin' on at

Out of Left Field

, but it's going to be tough for the next few days.

(

Rob Pettapiece

has a put a companion post up at

cisblog.ca

. Thanks so much, Rob.)