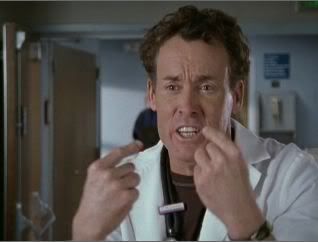 Only in Leafland can a coach's celebrity count for more than whether the celebrity can coach.
The OHL needs to pass a new rule: Teams can't honour a visiting coach who's been behind the bench for fewer
games
than the Ottawa 67's
Brian Kilrea
has
seasons
. It's on another level of fail when said coach works for
Doug Springer
. (Irony: Kilrea's last visit to Kingston is on Wednesday.)
Perhaps Barrie Colts owner
Howie Campbell
, given that half the teams in the OHL are down at the gate this season, can be excused for honouring Kingston Frontenacs coach
Doug Gilmour
Saturday before his Colts pinned another loss on the league's donkey team. Anything to sell tickets, right? He shouldn't be, though.
Speaking as a Frontenacs and Leafs follower, Gilmour has to be looked at as a newbie coach in in the OHL's worst organization. That is what he is today. The Fronts have four wins in the past two months, even though they are an improved team. People have to stop looking at what Gilmour did for Toronto back in 1993 and '94. It's like
The Sopranos
: It's over.
It was a rookie mistake for Gilmour to take part in something that has almost nothing to do with his current role in hockey.
So what if "the Colts organization wanted to do something special for Gilmour, to quote the

Barrie

Examiner

? You could read into that that the Colts highers-up are such big Leafs fans that they thought

gosh darn golly gee what the heck

, let's honour Number Ninety-Three, Dougie Gilmour so we can say Barrie did it before our big-city cousins in Toronto do it Jan. 31. (About that: Gilmour says he bought the Kingston players' tickets for that game; one report suggests otherwise.)

Kilrea, who is in his final season, deserves every tribute he gets for what he's done in the OHL for more than 30 seasons. It cheapens what's being done for him and long-time assistant coach

Bert O'Brien

around the league when OHL teams get carried away with honouring ex-players on the flimsiest pretense.

The Mississauga St. Michael's Majors held a sweater retirement several weeks ago for Hall of Famer

Dave Keon

, on the premise that he played for the original Majors decades ago when they were based in downtown Toronto. The Colts were even more out of line — the team didn't even exist when Gilmour played in the OHL.

Granted, the Colts might have something akin to executive privilege. They have the right since they have won as many OHL championships as the Frontenacs have playoff series in the past 13 seasons — once! Also please keep in mind, Barrie started as an expansion team in 1995, while the Frontenacs, under their oblivious owner, Springer, and GM-for-life

Larry Mavety

on, have merely been reduced to an expansion outfit.

Not knowing much about Howie Campbell, it's presumable he, like anyone with a measure of sanity, would plan major changes if his team was dead last in the 60-team Canadian Hockey League. Springer won't even comtemplate that, which has given rise to a persistent rumour he's sabotaging the Frontenacs so that the city-owned K-Rock Centre's revenues will fall so low that the city council will put up it up for sale, where he'll swoop in like Rogers did with the Skydome.

Well, what other explanation is there for why the owner of a 9-31-8 team with the worst goals-for and goals-against totals in OHL carries on like the only change fans deserve is from the arena's vending machines? Paraphrasing someting Dr. Cox (the character on

Scrubs

, not his Toronto

Star

namesake) once said, the only way Springer could be more useless right now is if he actually were the wall of the K-Rock Centre.

Springer is on record as saying Mavety is an "astute hockey man," which has become an Internet meme among Frontenacs fans. In light of the fact Gilmour let it drop late last week that he would be "consulting with Mav," about how to improve the team, Springer seems dead set against making any changes. To once again quote Sacred Heart's prickly Perry, that makes him worse than useless.



(

Scrubs

references, Sagert? Someone is single and works odd hours.)



Last summer, when everyone and her/his dog knew that The Royal Mavesty was returning as the permanent interim coach, but Springer held off on any announcement until the deadline passed for season-ticket holders to renew their seats. That might not happen again. A humble suggestion might be that season-ticket holders should start letting the team know how they feel about renewing..

(Typical of the no-account Kingston front office, the only e-mail listed on the website is that of

Jeff Stilwell

, the P.R. man. In other words, the P.R. guy is more accountable than the general manager and owner-president-governor who signs his paycheques.)

In other words, in light of all that, it's impossible to sit idly by and watch the Colts contribute to the charade that having Gilmour behind the bench is making any big difference in Kingston. As a sidebar to this, it's kind of funny that Gilmour told the Toronto

Star

that he got the Frontenacs players "all tickets up in the nosebleeds," for his tribute night. He might have been joking, or maybe this is just gossip dignified in print:
"When Doug Gilmour's jersey is honoured at the Air Canada Centre on Saturday night, his Kingston Frontenacs players will be in attendance. But he had nothing to do with getting them tickets. Turns out,

Mike Zigomanis

of the Penguins, as a goodwill gesture to his former junior team and knowing nothing of the Gilmour ceremony, bought 34 tickets for the Fronts players to watch the Pens play."
— Steve Simmons, Toronto

Sun
Who knows and who cares bought the tickets for the players.

It might have been a joke that has backfired on Gilmour's part. Well, nine wins in 48 games is a joke, but one cannot say the Gilmour experiment has backfired.

It's worked perfectly. The big reason Springer and Mavety hired Gilmour, in the absence of being able to get quality applicants because the word is out on those two, was to trade off his celebrity and deflect attention from the ramshackle organization. Shame on the Barrie Colts for helping the sham seem legit.

(Simmons link via Torontosportsmedia's Weblog)