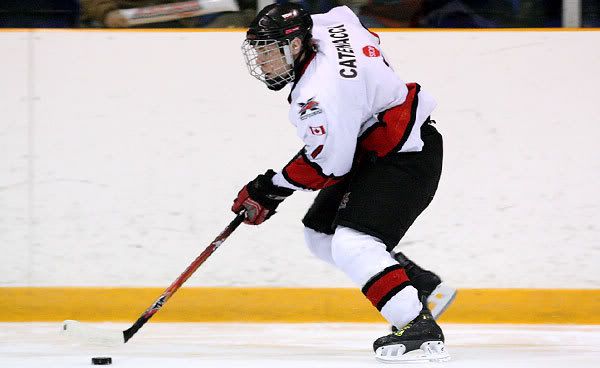 Young
Daniel Catenacci
might be seeing a portent of his hockey future this Saturday.
Catenacci, as those of you who get the
Sunday

Star
know, is the class of the "93s," in hockey argot. He is pegged to be the No. 1 pick in the OHL draft, which is the Kingston Frontenacs already have a death grip on. The smooth-skating centre's minor midget team, as it happens, has a game next weekend vs. Greater Kingston, which sports the same name, colours and crest as the city's de facto OHL team.
No doubt the Catenacci camp will do their homework about what awaits them in Kingston. It's even come to the point where
this site's commenters
are saying the local conspiracy theory is that the Frontenacs, under owner
Doug Springer
, are tanking so the municipality can't afford to keep paying for the K-Rock Centre and ends up having to sell it, likely for pennies on the dollar. (If that perception is out there, no wonder the actual turnout for Frontenacs games is so low.)
No doubt the Catenacci camp are great people, who will try not to tip their hand about their son's plans at any point before the draft. It's his future. They they have the right of first refusal when it comes to where Daniel will play hockey.

The Hockey News

reported several weeks ago -- when the Frontenacs finishing dead last did not seem like an inevitability -- that Catenacci was hoping to go the OHL route instead of the NCAA (one of his linemates with his midget team is already committed to play at the University of Maine).

It wasn't tied to Kingston story then, since there was still hope they would not be the worst team in the league. After all, Springer said the Frontenacs' goal was to finish in the top four of the OHL's Eastern Conference. There was, and is, no reason to doubt him -- after all, he didn't say which year -- outside of the fact the Frontenacs, with tonight's 5-2 loss in Oshawa, have won only 39% of their games since he and GM-for-life

Larry Mavety

came together to form the franchise's share-a-brain trust in a decade ago.

(The Frontenacs since Springer became owner, are 296-374-82 counting playoffs. That works out to a .448 winning percentage, yet there's never been, far as anyone can tell, any urgency to make any changes in the organization's hierarchy, namely the general mangler.)

There is a chance to have some fun with this, because in the words of

David Letterman

, "I just like causin' trouble." The cynics might already be scoffing that it will be a frosty Friday in July when a player who's supposed to be this good reports to such a ramshackle franchise, but the Frontenacs' saving grace is players such as

Ethan Werek

and Ottawa's own

Erik Gudbranson

(who earned a gold medal at the World Under-17s tonight, well done) who just need to be in the OHL to help their draft status and improve their bargaining power when they sign their first pro contract. Those kinds of players are too few and far between for one team to have 10 or 12 of them, even if they are the London Knights.

Anyway, the choice here is to call it the Daniel derby, although some rabblerousers were suggesting Crap for Catenacci, which is a bit rude to good boy from a good family. There will be plenty of time to talk about this, since the Frontenacs are 11 points clear of the next-worst team in the OHL. The marketing practically writes itself --he was born in '93! Give him

Dougie Gilmour

's old number!

Related:
Catenacci a powerhouse in 'sixth gear' (Lois Kalchman, Toronto

Star

)