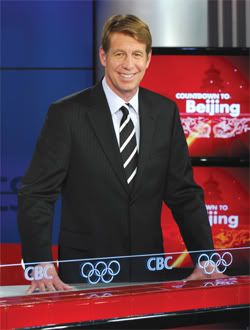 The Lou Marsh Award vote absolutely requires a really stupid and futile gesture be done on somebody's part.
One could work through proper channels and try to change the system from within. That could take many years and take away from the time devoted to watching
Scrubs
reruns.
The issue here is not whether the committee made the wrong choice in honouring wheelchair racer
Chantal Petitclerc
as Canada's athlete of the year or took a few liberties with the definition of elite competition -- it did. But you can't hold the whole committee responsible, for if you do, you're cutting yourself off from the opportunity to take cheap shots at a committee member. You would also end up doing nothing to stop a man's good name from being attached to a
weak defence of the choice
that could be called patronizing pabulum spooned out by the intellectual mice at the People's Network.
Step right up,
Scott Russell
of CBC Sports. This will hurt us more than it hurts you.
Dear Chantal,

This is just to let you know that we gathered to vote for the winner of the Lou Marsh Award as Canada's athlete of the year and you were the obvious choice - the overwhelming recipient of such an honour.

Lord Jesus, he -- or some intern from Humber or Ryerson, quite possibly -- is actually writing this an open letter, which is almost as hacky as ripping off the now-defunct

Fire Joe Morgan

.

If this is being written by some CBC intern, get it through your head now, before it's too late. It's about the writing process, arguing a point instead of sanctimony, not content, content, content. You are lost already if you focus on the latter. The dumber the world gets and the faster it moves, the more the words matter.

I tell you this because it's about time that we, as Canadians and believers in sport, universally recognize how great your achievement has been this past year. Of this fact there was little or no argument but rather near unanimous agreement.

Your five gold medals at the Paralympic Games in Beijing were above and beyond the performances of any other Canadian athlete since the last time our committee met.

That's good there was "little or no argument but rather unanimous agreement." Believers in sport

s

, as it's said in North America, clearly have no appetite for arguments between sports commentators.

We are all masochists for watching

Around The Horn

,

PTI

,

Off The Record

, listening to sports-talk radio and bantering among ourselves on blogs. The entire country must have been into whips and chains during the whole

Sean Avery

saga last week.

It's a load off to know no one in the committee was forced to step outside her/his comfort zone and forced to really test the idea at the risk of feeling foolish or inadequate (an occasion that I call "days ending in

Y

"). There should be a word for that. One-sentence paragraph coming up ...

We were mightily impressed.

Well, how can you argue with the choice now? He said "mightily." If he had only said "very" like us proles, doubt might have started creep in.



This is not to say that we didn't consider other outstanding Canadians as potential victors - we did.



Lest anyone think they just wrote the finalists' names on paper airplanes and picked the winner based on which one flew the the farthest. People have been wondering.



For instance, Eric Lamaze provoked a lot of discussion. After all, he won two medals at the Olympics with his wonderful horse Hickstead including the individual championship. No other Canadian has done that and Lamaze also captured more than a million dollars in a remarkable professional season.





Eric Lamaze, you see, is much more than a great rider, he also doubles as the magnificent animal's trainer. He would have been a worthy choice.



No, he would not have. Generally, and sorry to make a value judgement since that's apparently verboten among Lou Marsh selectors --

hey, should we consider that Justin Morneau, Jason Bay, Christine Sinclair compete in sports that have thousands of elite competitors? Nahhhhhhh

-- your athlete of the year should be from a sport that is relevant to the second half of the last century, never mind the current one.

That's neither here nor there. The real ass-chapper is that "you see." Leaving it in comes off as smug

(pot, meet kettle)

. Ms. Petitclerc and readers (well, it is the See Bee See, great if you're able to look past its tendency to try to led people around by the hand intellectually) are smart enough to put Eric Lamaze in context. Besides, we can all Google him -- just like a lot of people had to do for Ms. Petitclerc yesterday.



So too would have been Justin Morneau, the slugger of the Minnesota Twins of Major League Baseball. He is a team leader and prolific producer of runs at his sport's highest level. It's not easy to be one of the top dogs of America's pastime when you're a Canuck.



One would think this Morneau was far and way the most prolific producer of runs with a Canadian passport during the past season. It's too bad Jason Bay had a slightly better season.



And how about Simon Whitfield? The first gold medallist of men's triathlon at the Sydney Olympics was back at it in Beijing as a 30-something, first-time father. Whitfield provided Canadians with a thrilling dash to a silver medal this summer. It was very nearly gold and surely as electrifying. Whitfield also won a World Cup race in Japan and stood very close to the top of international rankings in a very demanding multi-disciplined endeavour.



No argument here, other than to point to that

George St. Pierre

fellow whose name is absent from this article, in a nice bit of social engineering. Actual conversation today with a family member who's in his early 20s: "Who's Chantal Petitclerc?" ... "I don't know." ... "Who's George St. Pierre?" ... "Champion in the UFC."



There were other considerations, Chantal, more than a dozen in all. To a person they were very impressive candidates. As my friend and fellow selection committee member Rod Black of CTV/ TSN noted, "…there is a compelling case to be made for each of these people."



Rod Black's awesomeness is seriously beyond reproach. He was trying to warn everyone, that as long as you're going to lump everyone in together, and pretend that's it's equitable to have only one award for female and male athletes -- what year is this? -- you're playing with fire. A badly designed system will yield bad choices.



And so there was a choice. But in the end the great rower and chairperson of our selection group, Silken Laumann, reminded us that it all boiled down to one thing. "It's about awarding this to the person most deserving and that's all that matters."



It should say chair

woman

, not chairperson. Where did whoever wrote this go to school?



In that regard Chantal, you won the day. Your five gold medals caused our national anthem to be played five times in front of 90,000 spectators at the Bird's Nest which was a spectacular feat in itself.



If

O Canada

is played at a sporting event which next to no one back home was following, was it really played? A fourth-line NHL player has a hand our national anthem be played 82 or more times a year, when people are actually watching and paying attention. Your 2009 Lou Marsh Award winner:

Dominic Moore

!



Plus, you set world records along the way and made your name known to all of us in Canada.





You did it with a smile and with grace and made us all forget about any disability you were faced with. Instead you reminded us how we can all be empowered by determination and hard work.



Would that Ms. Petitclerc could forget about her disability, but she can't presently, so why would you write something so goddamn insensitive? True, we're getting away from the days when people with disabilites were pushed out to the fringes of society. However, well you're patting yourself on the back for honouring the athlete with a disablity, know that it's the worst kind of tokenism to have their disability be the first characteristic you association with that person. Through this choice, this bit of idiocy, you succeeded in doing the opposite.



This is not a career award Chantal, although in your case it could easily be. Your five Paralympic appearances and 21 medals in all, including 14 gold, are a testament to your status as a pioneer to say nothing of your staying power. You are so well known in our country and you have put your sport on the map.



You mentioned Whitfield's gold in Sydney as part of his credentials. You contradicted yourself.



But this is about what you have done this year as a 37-year-old wheelchair athlete. Chantal you have done it all and it's about time we got around to telling you how great you really are.



Who said she wasn't great? By the by, she's a

38

-year-old wheelchair athlete, turning 39 next week, no need to send a cheque for the free fact-checking. Happy birthday, Chantal.



Michel Marois of La Presse also sits on our committee and he hit the nail on the head. The last time you won five gold medals Chantal, back in 2004 in Athens, the committee had to fight just to get you on the ballot for the Lou Marsh Award because some said your sport didn't have enough competitive depth. Not this time.



Overcompensate, much? Let's keep this on the up and up. The last time, they had to fight. This time, no one had to fight, no one had to argue, everyone just moved in linear-brained lockstep: "Five medals! World records!" Critical thinkers need not apply.



"Canada has grown in its understanding," Michel said. "We all have grown."



Yeah, you keep thinking that way. Where is this Canada that you speak of?



Indeed we have. And so I just wanted to say, Chantal that we are unanimous in offering you hearty congratulations for being named Canada's athlete of the year and the winner of the Lou Marsh Award.



Some would say that the "indeed we have" is a bit of tell. The hearty congratulations is intended more for the committee for choosing Petitclerc -- she's great, but we're great too for realizing that she is great. Do CBC types get to jump the queue at the ER when they go in to have their broken arms treated? You know, the arm they broke, patting themselves on the back?



This year there was no other choice.



Well, there were at least 10 choices from about 10 sports... regardless, starting to feel that lump building the chest, working its way up the throat.

It just had to be you.

This is where tears would be forming if I could cry, but I can't. Botched facelift.



With great respect and admiration,





Scott Russell




CBC Sports



P.S. And up comes the word vomit; let us never speak of us this again.

Related:
Memo to Chantal Petitclerc: It had to be you for the Lou (Scott Russell,

CBCSports.ca

)