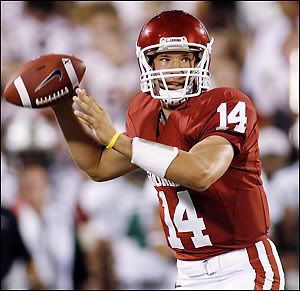 A post in which The Heisman takes on new meaning.
This season's BCS mess, who's going to win the Heisman Trophy doesn't hold much sway up here in Canada. Most of you lot are better off not getting such into the byzantine minutaie of who should be playing in the Big 12 championship game.
Here's one way to bring it home: As a boy, Oklahoma Sooners quarterback Sam Bradford, who's likely to win the Heisman,
really wanted to play for the Vancouver Canucks
. The Tulsa
World
did a feature on Bradford before last season where his mom related he was "adamant" that the family move to Canada and that he got up every morning to "see how the Vancouver Canucks had done."
If that was the case, Bradford would have been 10, 11 years old when the Canucks were doing through their, uh, tranquil period in the late '90s when
Mark Messier
was floating along on reputation as their captain.
Obviously, being from Oklahoma, and having had a daddy and granddaddy who had each played on some legendary Sooners teams, dictated what sport Bradford was going to choose (although Tulsa tried to recruit him for its basketball team).

Point being, if you're nose-up-against-the-class as a college sports enthusiast who lives in Canada, try to move past the rhetoric, past the BCS rankings and the stats. Sam Bradford was a hockey player.
Fans of other teams might not have considered this, but let's see how Florida's

Tim Tebow

and Texas QB

Colt McCoy

do on skates.

The bottom line is he played hockey, which

ipso facto

means Oklahoma deserves to be playing in the Big 12 championship game tonight, not the Texas Longhorns, and that Bradford should get the Heisman.



(No, not

in that way

-- the actual Heisman. For the record, the expression "getting the Heisman" to describe being rebuffed, with
extreme prejudice, by someone you had been sweet on for some time was brought into the personal lexicon by the great

Peter Peart

back in the day -- and reinforced subsequently through much bitter experience. Ah, life'll kill ya.)