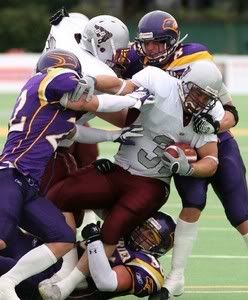 Going 4-4 in the OUA is next to godliness, evidently.
Here is one modest sugestion to the OUA: Replace the regular season with a series of controlled scrimmages, then just say everyone is 4-4 and draw straws for the playoff seedings. There is, to hear some people tell it, no carryover whatsoever from the regular season, so why bother keeping track of the Ws and Ls? Eight and oh, four and four, it's all the same oat bag.
It is only going to get tougher from here for the Queen's Golden Gaels, especially with
Mike Giffin
being a game-time decision
(Kingston
Whig-Standard
). He has not taken first-team reps this week and has had no-contact status in practice. Of course, Giffin is supposed to be Queen's entire team.
Saturday's OUA semi-final vs. the Ottawa Gee-Gees (1 p.m.,
cfrc.ca
) will be a tough one, but after hearing talk all week that this is a surefire reprise of last season, enough is enough. Like it or not, there is carryover from the regular season to the playoffs. Anyone who says otherwise is either anti-logic or -- One might as well go Gretzky at the Salt Lake Olympics -- are just don't want to see Queen's win. Fair enough, but don't sacrifice your best judgment over a football game.
Western was absolutely nails winning the Yates Cup after going 4-4 last season. The Gee-Gees are fully capable of reprising such a feat. No one is denying this is a talented team. Queen's, meantime, has not plugged all of its leaks and one can't be too cavalier about the notion that Giff might be a no-go.

Queen's passing game vs. Ottawa's pass defence: Gaels QB Dan Brannagan has his critics, but has also thrown for 13 touchdowns vs. the four best pass defences Queen's has faced, which include Ottawa. The Gee-Gees might decide to rotate coverage toward likely all-Canadian Scott Valberg, in which case, the deep post or post-corner to the inside receivers -- a staple of Queen's offensive diet -- could be open.

Brannagan had his way with the Gee-Gees secondary in that Oct. 11 game in Kingston. A lot is going to depend on the weather, but beyond people who just have a feeling that he's going to blow sky-high, he's shown another side of himself so far this season.

One difference between would-be Cinderella Ottawa and Cinderella Western. Those Mustangs allowed just seven touchdown passes in the regular season. Ottawa has given up 14 -- in the last five weeks, which included games against two teams who missed the playoffs. (Their yards-allowed totals are pretty good.)

Ottawa's passing game vs. Queen's pass defence: The glass-half-full approach to facing Josh Sacobie is that this is the fifth time Queen's has faced him in three seasons. They intercepted him three times in the '06 playoff game and they have shown they can put heat on any dropback passer in the OUA. They had an OUA-best 27 saves and allowed just eight TD passes, second-fewest to Western (7).

Ottawa is getting its receiving corps back to health. Ivan Birungi, Ron Kelly and Cyril Adjeity are each tough if not impossible to cover one-on-one. Steven Hughes has not played this season, but the 2007 OUA all-star is eligible after sitting out a full year. (Good thing he was on a team that missed the 2007 playoffs.) However, adding pressure, not adding coverage, is how you cover the pass. Queen's can bring pressure. Advantage: Ottawa, slightly.

Queen's running game vs. Ottawa's run defence: The Gee-Gees were good against the run no matter how trying the situation got with their team. Giffin was unable to put up numbers vs. the two best run defences Queen's faced (20 carries for 69 vs. Western, 21 for 72 vs. Ottawa). That seems to be their Achilles heel, but they have had two weeks to study Ottawa's front seven. Marty Gordon and Jimmy Therrien are not as dynamic, but if the line opens a hole, they'll hit it, pure and simple. Advantage: Ottawa.

Ottawa's running game vs. Queen's run defence: Davie Mason's record 327-yard day vs. Guelph was probably about 65% him and his blockers and about 35% Guelph's delusive defenders. The Gryphons kept on trying to stop a 240-lb. running back with a full head of steam one-on-one. The Gryphons have a tendency to wear down defensively late in the season, plus one of their best linebackers, Tag Russell, did not play.

Mason has had mixed results vs. the Gaels: He sat out the Oct. 11 game, had a good 18-carry, 103-yard day against them in 2007 and got just five carries in the 2006 regular-season matchup, when Michael Donnelly (now at Concordia) got most of the work. His 129-yard day in the 2006 OUA semi was padded -- he broke an 82-yard run late in the game when Queen's was crowding the line to try and get a turnover.

The Gaels gang-tackle and swarm to the ball much better than Guelph does, let's be honest. They allowed just 4.2 yards per rush in the regular season. Guelph gave up 5.8 this season when you toss out its result against York. Advantage, Queen's, on a clear day.

Queen's kicking/coverage vs. Ottawa's return game: Dan Village, who does all Queen's kicking, had a decent season. He was only seventh in the OUA in punting average, but few teams were able to break big returns against Queen's cover guys. Ottawa also had several special teams mistakes last week, and it averaged just 7.2 yards on punt returns. Part of the problem there has been a lack of continuity. Chayce Elliott, the cornerback, is a threat, though -- remember the 79-yard kickoff return he had in the regular-season game? Advantage, Queen's.

Ottawa's kicking/coverage vs. Queen's return game: The Gee-Gees kickers are not that bad, they just have to figure out who they are. They have had some long-snapping and protection problems, but it didn't affect them vs. Guelph, in part since Jason Peterson only had to punt twice. Matthew Falvo, a rookie, did OK on field goals last week.

Queen's jukin' Jimmies, Allin and Therrien, averaged close to 20 yards per return vs. Ottawa three weeks ago. Peterson has a good leg but since he has the D-lineman body, isn't the quickest getting the ball away. That means his blockers can't release as quickly and Queen's has more time to set up a return -- and they led the OUA in returning punts. Advantage, Queen's.

Past history: If the players believe it matters, it matters. If they don't, it doesn't.

Field conditions: Richardson Stadium has a well-earned rep for becoming a bog late in the season, which might work against the Gaels. Their defence is built on quickness and all three tailbacks. Giffin even at his size is a slasher, while backups, Marty Gordon and Jimmy Therrien, also need a clear field to do their work. Mason is a straight-ahead runner, but even he would probably prefer sure footing to mud.

The upshot is that the field should have held up better than in past Kingston falls. There is no rain in the forecast. Queen's soccer teams, which share the stadium, had only one home playoff game this fall, while there has been only one home football game since Oct. 1.

Final thought: There is no way of telling how much weight should be given to each area, but here are six phases of the game. Queen's, based on the numbers and a loose interpretation, probably comes out ahead in four. Ottawa's best chance is either to win a shootout (in Kingston? In November?) or hope Queen's comes out flat. It should be a good game Saturday, but there's no reason not to go against the standard pick here all season -- Queen's by a field goal.