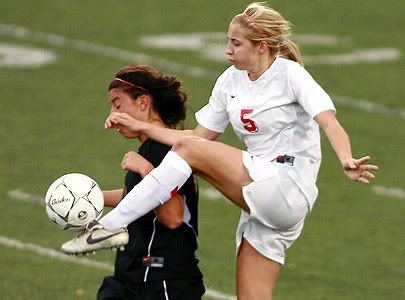 The physical courage, not to mention the personal sacrifices that female athletes are remarkable -- in many cases it exceeds that of the men, even though the tangible rewards (i.e., huge stacks of cash) aren't as obvious.
Michael Sokolove
's forthcoming book,
Warrior Girls: Protecting Our Daughters Against the Injury Epidemic in Women's Sports
, which is
excerpted
in this weekend's New York
Times
magazine, seems well-timed. It's a tough story to boil down to a couple paragraphs ... basically, the march toward equality on the playing fields has also meant that female athletes in some sports -- soccer, basketball, volleyball -- suffer major knee injuries at a higher rate than the guys by a factor of five in some cases.
There's also potential sexism in focusing on problems in women's sports when the success stories tend to only get lip service in the media. It's wonderful that we're in an age where a super-competitive female athlete can go for it from an early age and isn't told, "well, that's a nice hobby." That was a subtext to a feature I wrote for the Ottawa
Sun
a few months ago about a young hockey player named
Isabel Ménard
, who's in the Sport-Etudes program at Louis Riel, where during this winter she would be on the ice each school day, often doing drills alongside a possible future NHL defenceman,
Erik Gudbranson
, the Kingston Frontenacs' top choice in last week's OHL draft.
I only mention the above example to show the progress that's been made in the past decade or so. N The thing is, when studies show that young women absorb major injuries at a much higher rate than males in the same sport, it is worrisome. By the same token, there's a defensiveness there, since there's a worry about showing weakness and giving ammunition to the arguments against things such as Title IX, the catalyst for women getting more opportunities in sports in the U.S.
Sokolove points out that in youth sports and the U.S. military, there's evidence that females have a higher tolerance for minor injuries; the guys are more likely to beg out over a minor ailment.
See? It's complicated. Please give it a read.
(While we're here, best of luck to a couple of Ottawa-area shinny stars -- Isabel Ménard and
Jamie-Lee Rattray
, of Kanata, have each been invited to a
national under-18 program camp
in Calgary later this month. Two others from the region, Wisconsin standout
Jasmine Giles
and UConn's
Dominique Thibault
, are going to the under-22 team's camp.)
Related:
The Uneven Playing Field
(Michael Sokolove, The New York
Times
Magazine)