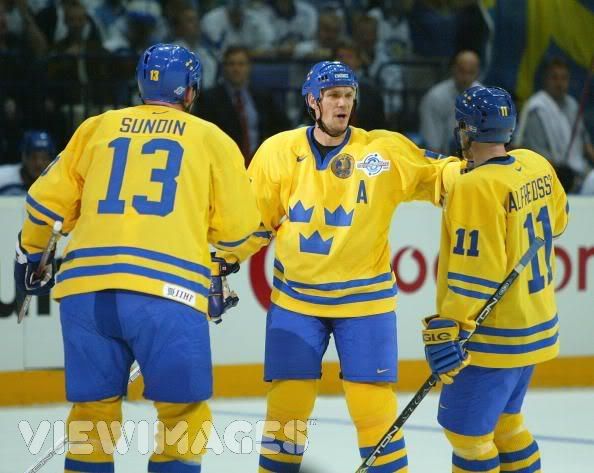 Some morning tidbits to tide us all over; someone has travel plans today...
It's impossible to abide The Canadian Press' Pierre LeBrun saying QMJHL goalie Bobby Nadeau acted like a "Nancy Boy" in a column for sportsnet.ca.



Cripes, if anyone should be criticized it should be Chicoutimi goalie Bobby Nadeau for standing there like a Nancy Boy and not trying to defend himself when (Jonathan) Roy came after him?
-- March 26, 2008

The Tao of Stieb called it "creepy" that LeBrun, for all his virtues as a journalist, is arguing for 19-year-olds whaling on each other.

(Granted, on-ice violence in hockey never, ever spills over into how a minority of fans behave in normal society. (Tell that to the guy in the Oilers sweater who received a 5-on-1 beatdown in Calgary last Saturday while he's convalescing from his broken nose).

"Nancy Boy" should never get to the webpage when it's used in such a derogatory way. The term implies someone is gay or, short of that, that being gay is a lesser form of humanity. One reason LeBrun has skated on demeaning Nadeau is that sportsnet.ca might not get a lot of traffic from Chicoutimi, in the virtually 100% French-speaking Saguenay.

LeBrun's job doesn't require him to be a "tree-hugger." (His term from the same article.) No doubt he didn't mean it that way. That's not an excuse. It's like that episode of The Office when Michael Scott, Steve Carell's character, gets in trouble for saying "faggy" in front of Oscar, a salesman who is gay. This is not funny -- it's a little funny -- and it's not a firing offence, but LeBrun and sportsnet.ca should know better.

The joke's on Ottawa Senators management that the all-important Sens-Leafs match tonight is a pay-per-view game.

The first reaction back in August when the team's broadcast schedule came out was, "Why in the hell are they putting that on pay-per-view -- it's probably going to be a nothing game because the Sens will have clinched and the Leafs will be out of it."

It turns out it might be found money for Sens management. This presumes Sens fans pony up instead of sticking with the radio. Agonizing over a sports event which you cannot see is a much better way to stress-test vital organs, after all.

Thing is, the Sens organization can't make too big a deal of their windfall, since it would look like they're revelling in rolling in dough while the team goes down the tubes. That's really more of a MLSEL thing.

It's most likely Ottawa gets in by virtue of beating the Leafs without Mats Sundin and Nik Antropov, but who can be proud of that? Perhaps they back into the playoffs if the Flyers blow it and then there's a chance that they will complete the worst collapse in NHL history, and cause Leafs fans, a la Brent Leroy when the Corner Gas Guzzlers earned their first-ever tie, to taunt, "Ha-ha, you suck as much as us."

It's good to see Daniel Alfredsson and Mats Sundin -- each among Sweden's greatest exports not have a name such as Ulrika or Malin --cross paths tonight. (Ignore for a second that Sundin is sitting out the Leafs-Sens game.)

After all, Mats and Alfie, they're so busy and now it appears that they each might be free to lead Sweden at the World Championships in a couple weeks. Are they going to meet up in Ottawa and take a scenic drive down to Quebec City?

That's the joke going around. Sundin refused to let the going-nowhere-fast Leafs trade him to the Canadiens because he really, really wanted to play for Sweden in the Worlds in his original home NHL city. Never mind that's the equivalent of a college basketball team skipping the NCAA Tournament to play in the NIT.

(For the record, cheering for Sweden in hockey, as a Canadian, seemed like a reasonable thing to do two years ago -- before Deadspin's Will Leitch had a chapter in God Save The Fan about why it's American to root against the U.S. in the Olympics. The World Juniors get an exemption since our guys really seem to care about that event.)
A hockey post is up at Epic Carnival, by the way. That's all for now. Send your thoughts to neatesager@yahoo.ca.