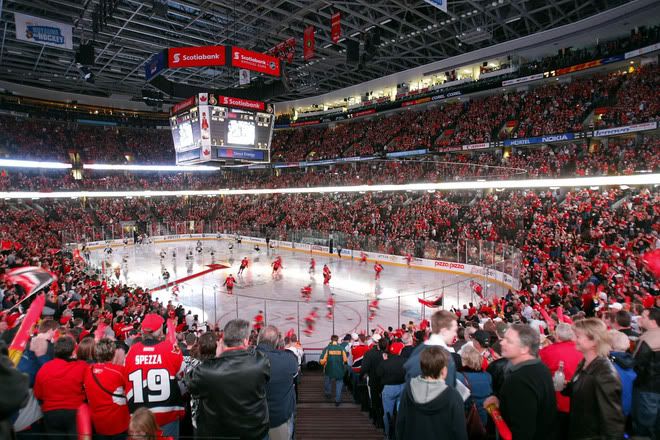 Some would say the Senators are toast, down 3-0 to the Pittsburgh Penguins (that rousing
pre-game oratory
from a Village People reject kept them going until about the 10-minute mark). Edna Babblecock has had almost all she can stands, reports your agent, Jean-Pierre Allard.
Hi! Edna here.
Contrary to what you may all think this morning, I did have a good night's sleep. It's not a minimal thing like my Sennies being down 3-0 that will keep me up nights. I mean, if the Toronto Make-Believes could come back from a 3-0 deficit against the Detroit Dead Things 66 years ago, so can we. Besides, the Penguins are the only other team in the history of the NHL to have let a team come back and win four straight. So what if that was 12 years before
Sidney Crosby
was born?
So I'm with Eugene (Axe) Melnyk and his Bert's Bar's Bimbos and Bamboozlers on this one.
Call me crazy but I really think the Sens have a chance now that my favourite player,
Dany Heatley
, is back from his assorted ailments, after being invisible in the last 12 games. He is back, right? I mean, my old Tandy tells me that he got a four-minute penalty for high-sticking seconds after
Cory Stillman
took a senseless and lazy penalty on Andre Pronovost which then caused
Marian Hossa
to score his first playoff goal in exactly four years to the day he last scored one against the Maple Laughs and then celebrated as if he had won a friggin' Cup.
EFFIN' NEIL
Of course, I'm also very heartened by the fact that
Chris Neil
is continuing to show steady improvement. He's started taking retaliatory penalties
before
the whistle. Rachel, Phoebe and Monica would each melt, if the weren't fictional characters on a sitcom that went off the air in 2004.
This morning wasn't such a good one however, as I had to put up with the newest member of our Lodge, one Robertson Frederick. This old geezer was shouting to everyone that can still hear that he's got a whole lot of baby Penguins in his pool from the other Lodge that he was just kicked out from – rumour has it that his defibrillator kept the natives awake at night with strange musical overtures that sounded suspiciously close to the racket that
Frank Zappa
and his
Mothers of Invention
invented in the 1960s -- and I quote the old SOB here,
"I desperately need the Sens to win more games. I've got a lot of Penguins in my
pool and I could really use the points."

Maybe the GM/coach could try a radical strategy in Game 4? Pull the goalie on the opening faceoff and go with six attackers. I could get 178 points in one game, maybe even an extra 2 points for a shut out.
We're not finished digesting our breakfast slop and we still got pains in our stomachs from laughing so hard at seeing Sens president Roy A. Mlakar cross-dressed in a Roman toga urging all fans last night to not surrender before last night's game. At least that's what we thought he was saying because his mike was dysfunctional as always, not that this is a great loss, especially when he speaks off the record. We just hope that the game was not being broadcast in the States. So then Frederick goes on:
"Just thought I would mention that in the other Lodge hockey pool, zero Sens were selected. We were however allowed to select as many Maple Leafs as we wanted.

"I selected Bill Barilko, for his obvious clutch playoff performance and because I'm from Kingston, Tim Horton for his supply of donuts, Johnny Bower, who is still alive and Eddie Shack for his entertainment value. I don't expect much out of the dead guys, but they rate higher than any Sens player, and I'm pretty sure that Terry Sawchuk could stop Jason Spezza."
I have to think that Mr. Eugene ain't too happy right now and I expect that the one remaining playoff game might not be a sellout.

Hopefully, Melnyk will trot in and fire the Zamboni drivers who are the root of the rift that has divided the team and ruined the team chemistry when they delivered the wrong shipment of meds. So much in fact that the Sens players are now barred for life from Foundation and downstairs at Zaphod's, and now have to go and do whatever they do at Social.

Jean-Pierre Allard
Ottawa, Ont.
April 15, 2008