Jean-Pierre Allard will be contributing his thoughts on the precious Sennies throughout their run in the Stanley Cup playoffs.
So, it's Sens-Pens, part deux, eh?
That can only mean that Ottawa fans will, once again, embarrass this otherwise fine city when they are sure to boo Sid The Kid, the best player in the world, when the series moves here for Game 3 on April 14.
Some of us think they should boo someone else instead. Need a hint? Last name starts with
M
. And it's not
Malkin
, nor
Maurice
, though they would have every reason to assassinate him after the Leafs coach said the Senators were shaking their purses when
Daniel Alfredsson
got his bell rung. (Could all be forgotten if Paul Maurice gets new designer glasses and replaces
Bryan Murray
as coach next year?)
Anyways, my usually reliable source says that A.L.F.I.E. (Absent Leader Fails Ineffective Egg-heads), despite an undisclosed lower body injury, a mid-lower body injury, a mid-upper body injury and a real-high upper body injury might be back sooner rather than later, which would be for the last game of the playoffs on April 16.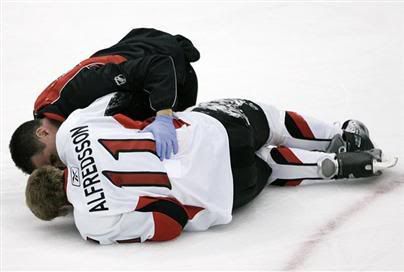 To replace the brave captain on the Pizza Line, Senators full-time head coach and part-time GM Bryan Murray is toying with the idea of inserting any one of his five stiffs who, alas, are still rusted from riding the pines from October to February under the curious regime of long-forgotten Capitaine Haddock.
The Shawville Slinger's dilemma however is, according to new assistant coach
Randy Lee
and father of
Brian Lee
, that his top line is already manned by two stiffs and anybody knows, even the video coach, that you need a mix of varying skills on any offensive line for it click. Which, apparently is not a word known to those Sens players who, even after two days after
The Hit
, were still professing to not have seen video replays of the clean-but-still-dirty legal hit by the Leafs'
Mark Bell
. Which makes me wonder if this is yet another case of divine intervention from the Mighty SOPO or the video coach is not doing his clicking job.
Too bad that Professor Murray does not have the fortitude to pull up an ace from his repertoire and turn to card-carrying Black Ace
Brian McGrattan
for immediate help, as suggested by Ottawa's only award-winning sportswriter who only needs to write about sports when it matters most, far too busy to feel the pulse of this metropolitan city and shake its staid trees.
There's no truth to rumours that
Alexei Yashin
has been signed and is on his way to Pittsburgh where he will play on the fourth line with
Randy
"Luc"
Robitaille
and
Shean
"Sunshine Superman"
Donovan
in Game 1 tomorrow.
On the subject of tanking, the Senators management apparently have asked all media to refrain from talking about the fact that the '92-93 Senators no dobut purposely lost their last few games that maiden season in order to make sure they picked No. 1 overall so they could choose
Alexandre Daigle
instead of
Chris Pronger
and, in the process, make sure that everyone remembers, even The Wharton Grad, who gets picked No. 2.
As mentioned above, the Senators will play their last game against the Pittsburgh Penguins at Scotiabank Place on April 16 and will be down 3-0 in games after the non-contest, with the goal differential omitted here to protect what is left of this team's pride.
Game 4 will only serve to fulfill network television commitments. As of this writing, the last home game of the most bizarre season in the Senators' 15-year history is heavily rumoured to be staged as Player Appreciation Night where
Eugene Melnyk
will throw a party so big that it will make Woodstock look like a county jamboree. Of course, no one in attendance at the game, and the media too, will dare remind him that just two weeks ago, the horseman was heard, and quoted, telling his fans to "keep the faith as Ottawa has the best team in the league."
Again, my usually reliable source in this village tells me that Eugene will be handing out personal-size axes to every patron for use, not in the fine art of sushi preparation, but for taking a swing at meticulously prepared wooden effigies of each player after the series is over. They'll be hollow, like the Sens' collective heart, some would say.
The in-game ceremony, which will also be simultaneously broadcast by TSN after they successfully sought an injunction against the Pens for depriving the Toronto station of millions of revenue when it had to settle on showing the Caps-Flyers series after Pittsburgh lost to their Transylvania rivals on the last day of the season, will be accompanied by music from Eugene's third favourite musical group,
Frigid Pink
.
Finally, there is absolutely no truth to the allegations that former Sens coach
Jacques
"The Taciturn Tactician"
Martin
's Florida Panthers tanked the game against the Washington Capitals last Saturday. C'mon people. Do you think for a second he didn't want
Joe
Corvo
to get a chance at redemption here? Or the Hurricanes in general to have a chance to show the Ottawa media what the rest of the hockey world has known for months now, namely that GM
Jimmie Rutherford
passed "Un gros sapin" to Bryan Murray in early February.
Right now, there are many players on the Senators who just wish they hadn't been so quick to laugh at
Alex Ovechkin
and his upstart Capitals in a rout during the 2006-07 season when Washington stunk as bad as its baseball team. Hockey players have long memories.
Boy, never in history could the Snores more use a Chris Pronger then right about now.
Jean-Pierre Allard
April 8, 2008