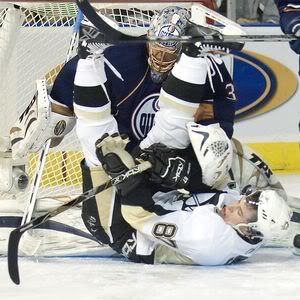 Talk about feeding two birds with one score.
Today's
Toronto Star
detailed how
Sidney Crosby
betrayed his whining ways and
Pierre McGuire
, the Lisa Simpson of hockey commentators, showed he shouldn't always be so sure, all in one fell swoop during NBC's telecast of the Penguins-Rangers game.
This needs a long excerpt to explain. Apologies to
The Star
's
Chris Zelkovich
for piggybacking:
" ... Scott Gomez was penalized for high-sticking Pittsburgh's Sidney Crosby in the face.

"McGuire instantly questioned the penalty, saying that Crosby had 'sold that call.'

After replays couldn't settle the matter, McGuire broke in to tell viewers that Ranger Brandon Dubinski was calling Crosby 'a faker,' and that Crosby was laughing on the Pittsburgh bench.

" 'Dubinski's saying, `That never touched you,' McGuire reported.

(snip)

"... McGuire reported that Crosby had asked him if he had accused him of
embellishing the call. McGuire confessed that he had.

"So Crosby showed him his mouth guard, which apparently bore the black marks of tape from Gomez's stick. Case closed following an apology by McGuire."
Sounds like great television. In the States, the call-in shows and the blogs would be all over
Kobe Bryant
if he stopped at press row during a game to question what a broadcaster had said about him. Remember the fallout in the early '90s when the Mets ballplayer,
Bobby Bonilla
, called the official scorer between innings to complain about being charged with an error?
This is Canada, though, with all the hockey hero mythmaking. That's not such a bad thing, though. Doing anything more than poking fun at Crosby for being a crybaby -- who cares what Pierre McGuire said about you, play the game! -- is like going to Paris to see the Louvre and then complaining that the lines were too long.
(Although you can probably find Canadians who would go there.)