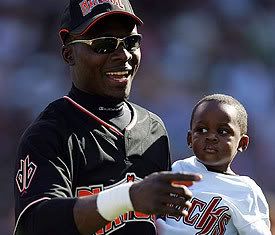 It's staying light longer, the Leafs are all-but-eliminated ... that can mean only one thing: We'll soon see the first halter dress of the season! OK, two things: It's time for baseball, the timeless game that involves committing to a team for six months after reading all winter about why they won't win jack squat. Here's a "starting nine" for the Arizona Diamondbacks.
Doin' it right: You probably heard that the D-Backs were the first team since the 1906 White Sox to finish first while having the worst batting average in the league. They also had the National League's best record while being outscored on the season. That lends itself to the asking what they're set to do now that their young hitters are more mature and Dan Haren has become their No. 2 starter, coming in a trade with Oakland.
Doug Davis, that explains it: One lynchpin in Arizona's logic-defying season might have been a soft-tossing lefty who got released twice in the American League in the span of two months back in 2003. Davis started in 20 of Arizona's 90 wins. He's more likely get racked this season than keep it going, though.
Just keep him away from the nerve tonic: Baseball Prospectus 2008 pegs D-Backs rightfielder Justin Upton, who's 20, for .271/.349/.471 and 92 runs. As a point of comparison, in his age-20 season, Ken Griffey Jr. hit .300/.366/.481 and scored 91 runs -- but that was after having a full season in the majors.

All the fantasy baseballers in keeper leagues can tell you about the other youngbloods on the D-Backs: First baseman Conor Jackson, third baseman Mark Reynolds, shortstop Stephen Drew and centrefielder Chris Young.
Right right right, Randy Johnson: It's hard to believe a sure-fire Hall of Famer could almost be a forgotten man, given the way contemporaries Roger Clemens and Curt Schilling have a need to stay in the spotlight that almost seems pathologicial. (Hey, no one's judging.)

The Big Unit, who'll be 45 years old by the time the leaves turn (do the leaves change colour in Arizona?) is still around, complete with cracks in the drywall, peeling paint and a creaky back. One hundred fifty innings out of him doesn't seem too unreasonable, considering Arizona has a bona fide 1-2 punch between Brandon Webb and Dan Haren and his sick splitter.
Just seems wrong: Even those who are ambivalent toward the Red Sox have a hard time adjusting to seeing Trot Nixon in the National League and trying out first base no less after all those years in right field at Fenway Park. Cleveland was an acceptable transition; at least it was a charter franchise.
'Pen is mightier: Arizona was 65-8 when leading after six innings last season. Their bullpen might actually get better after GM Josh Byrnes flipped closer Jose Valverde to the Astros. Brandon Lyon, another former Jay along with Davis and Orlando Hudson at second base , is slotted in as the closer. Some are clamouring for Tony Peña to get a shot.
Don't stereotype: The typical Seamhead can recall right-handed starter Micah Owings' hitting stats -- .333/.349/.683 -- quicker than they can remember the last time they talked to a woman without first giving her a credit-card number. It's fun to think about Owings becoming a two-way player,
Welcome to a Jays fan's world: The L.A. Dodgers setting up spring training in Phoenix means diehard Diamondbacks fans have to deal with bandwagon-hopping, fair-weather fans who strut around like they own the place (but don't show up if their team is more than six games out of first place). The best advice from a Jays fan is to humour the L.A. fans for having lives of such wretched desperation that they actually pay $200 to see a fake game. Also, L.A. fans are bound to be a lot better-looking than Boston folk.
Need to know: Arizona will play 22 straight games vs. rivals in the deep NL West in April. The division won't be won or lost there, but it's fun to frame it that way and they'll be a fun team to follow throughout the summer for nocturnal American League chauvinists. They have a shot to win a pennant in a weak league.
That's all for now. Send your thoughts to neatesager@yahoo.ca.