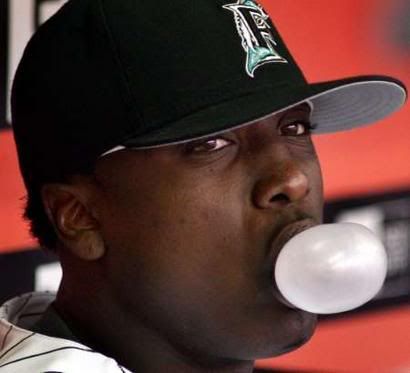 A skewed view of the sports zeitgeist...
Modest proposal: The Detroit Tigers, now that they've added Miguel Cabrera and Dontelle Willis, should man up and offer to trade divisions with the Jays.

Hey, the path to the World Series goes through Boston and New York. Why not try to take out one of those teams before October if your ballclub is that stacked, Dave Dombrowski?

The long and short of it: The Tigers are going to have Ivan Rodriguez as a prospective No. 9 hitter. Has there ever been a team who had a future Hall of Famer (not counting pitchers, so save it, Tyler) batting ninth on a regular basis?

The 2007 Tigers scored 887 runs (second-most in the only major league that matters) despite having the AL's fourth-worst strikeout-to-walk ratio. Now Cabrera and Edgar Renteria will be taking at-bats that went to two undiscliplined hitters, Craig Monroe and Brandon Inge. Chew on that.
Crashburn Alley, meantime, is hoping the Phillies deal for Inge to solve their third base problem. It would only be fair, since that position has been a black hole for the Phillies since then-GM Ed Wade gave the Tigers Placido Polanco 2 1/2 years ago.

Inge was a No. 9 hitter in the AL who slugged .376 last season, which would translate into him being a darkhorse MVP canadidate in the NL.
As for what the Jays might do, you know where to go: Jeff Blair's globesports.com blog, The Tao of Stieb and Drunk Jays Fans. Some of us are not that dedicated to sit by the computer all day waiting to learn who might be rocking the powder blue next springy.

Gut feeling: Nothing is going to happen with Alex Rios (don't trade a five-tool player,) and no organization should want any part of Jason Bay until they see how his knee holds up. The most similar player to Bay, by the way, is the infamously injury-prone Kal Daniels, who played his final game at age 29.
If anyone's interested in starting a Steve Downie Suspendable Offence Pool, consider the Philadelphia Flyers' Dec. 13 game vs. the Canadiens and Guillaume Latendresse already taken.
Sorry, no acidic comments are coming on the seven-in-a-row Senators. It seems like bad form when Patrick Eaves and Anton Volchenkhov are out injured. Meantime, Wade Belak scored a goal last night? Really?