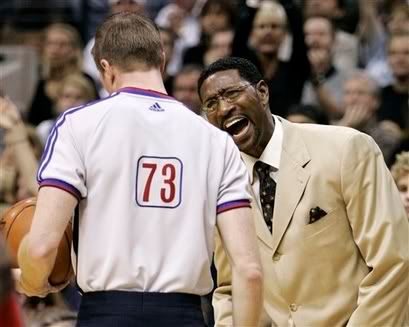 Gut reaction to the Raptors' collapse in Dallas:
So that's what it looks like to be surprised you're beating the Dallas Mavericks by 24 points on their home floor.
The reality the Mavs needed a true star effort by Dirk Nowitzki (32 points, including 18 during the decisive third quarter when the Mavs wiped out the last of that big lead) to win makes this easier to swallow. Now that that's out of the way, would it have killed Sam Mitchell to call timeout during that run of four threes late in that period?
This is a fragile team, so nights like this are going to happen. It might have been just something seemingly insignificant, like having Rasho Nesterovic or Jorge Garbajosa available to help with the rebounding, that might have turned the game, or at least slowed down Dallas.
Is it bad form to hope T.J. Ford, who got shaken up, sits a bit and Jose Calderon takes over as the starting point guard? Calderon does seem to get it that the job is all about making everyone better on the floor.
Related:
Yahoo! video highlights