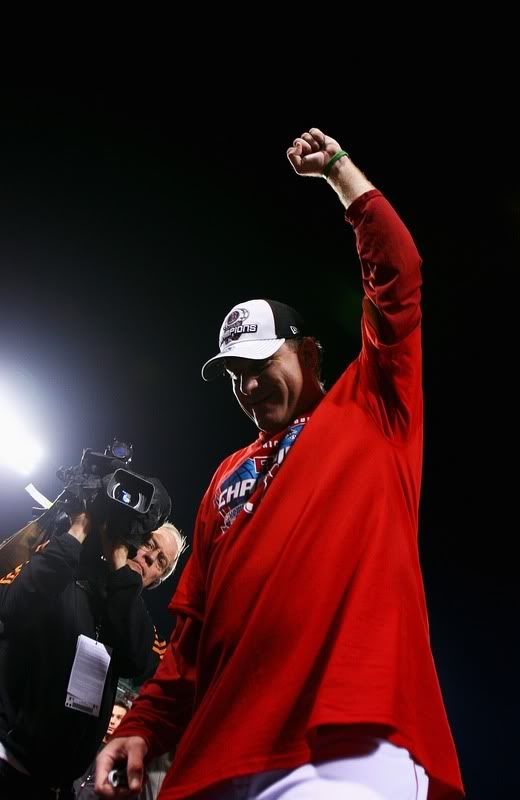 Honestly, it's all good that the Red Sox pulled off the big comeback.
Why it's good for the Centre of the Universe: The Massholes are borrowing on their future allotment of karma and goodwill before the highly touted Celtics, a division rival of the Toronto Raptors, start to play real NBA games. Think about it. The Red Sox just won three straight win-or-go-home games to get into the World Series. The denouement in the
clinching 11-2 win
came after an all-time boner by Cleveland third-base coach
Joel Skinner
kept the tying run from scoring in the seventh inning.
The New England Patriots are threatening to go undefeated and break every NFL scoring record. In college football, Boston College has risen to No. 2. The Bruins aren't even in last place in the NHL's Northeast Division.
See where this is going? No city of sports fans can have it this good for too long. It means the prospect of some calamity -- a major back of knee injury to
Ray Allen
or
Paul Pierce
or
Rajon Rondo
appointing
Gary Busey
as his mentor and spiritual advisor -- is dangling over the the Celtics like the sword of Damocles.
(OK, quite possibly not, but the Red Sox are set to win their second World Series in four years -- they'll take out Colorado in five games. So there's a demand for coping mechanisms.)
The concept of the Bostons --
Curt Schilling
,
David Ortiz
and
Manny
being Manny,
yawn
-- being in the World Series is about as stale as 95 per cent of the hip-hop albums released in the past two years. So be it. They were better than Cleveland across seven games. It must be nice to be able to give a $103-million contract to a Japanese right-hander and feel he was worth it since he managed to get through five innings once in post-season, or to be able to believe that
J.D. Drew
earned his $70-million contract with that grand slam in Game 6 on Saturday night.
Meantime, that freaky carom and Skinner's coaching mistake in the seventh inning puts some credence into the
Curse of Rocky Colavito
. For those of you who didn't watch,
Kenny Lofton
was on second base in a 3-2 game in the seventh when
Franklin Gutierrez
smashed a hit just inside the third-base line. The ball hit the wall and shot out at an extreme angle, and Skinner ended up telling Lofton to stop when he could have scored easily. (Lofton was on second base thanks to a fielding goof, but that was just an evenout after a blown call against him earlier in the game.)
The next batter,
Casey Blake
, hit into an inning-ending double play, then promptly made an error that helped give Boston an extra run when
Dustin Pedroia
homered. That was that.
One last point for anyone who's wondering what Boston will do to make room for Ortiz at first base when they won't have use of the DH for the games in Colorado.
Kevin Youkilis
'
Revised Zone Rating
in the 100 or so innings he played at third base in the regular season was just a few points higher than the regular,
Mike Lowell
(.735 to .732), so shifting Boston's hottest hitter to third could be doable . Then again, with the small sample size, it could just be a fluke.
It's clear what Jays manager
John Gibbons
would do if he was managing the Red Sox -- he would probably bench David Ortiz because he just had to have Kevin Youkilis' glove at first base, in the lineup, even though it's far and away the least important defensive position. (And that's exactly why Gibbons isn't managing the Red Sox.)