So we were thinking... wouldn't it be good if a blog previewed the Canadian university football season, team by team? We didn't necessarily mean that we'd have to be the ones to do it, but either way, here we go: 27 team previews by the time all four conferences begin play on Sept. 7. As part of the effort to eliminate Eastern bias within our lifetime, we're starting on the West Coast. Presenting: The UBC Thunderbirds.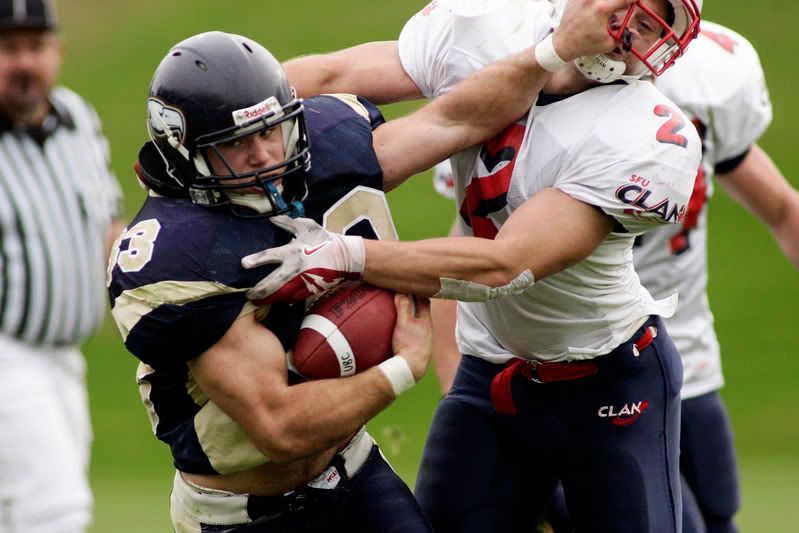 BRITISH COLUMBIA THUNDERBIRDS
In '06:
4-5, lost 35-16 to Saskatchewan in conference semi-final
Players to watch:
RB Chris Ciezki, QB Doug Goldsby, DL Scott McCuaig, DL Ryan Thomson, DB C.J. Stephenson, WR Darren Wilson
Coach:
Ted Goveia (2nd season)
Co-ordinators:
Goveia (offensive), Dino Germia (defensive), Clint Uttley (special teams)
Last league title:
1997
Big ones:
Sept. 21 at Regina, Sept. 29 vs. Saskatchewan, Oct. 13 at Manitoba
On the web:
gothunderbirds.ca
Strengths:
Ciezki
(pictured)
is a Hec Crighton candidate and all four starting receivers have returned. Goldsby, the quarterback, has some speed, so the T-Birds might be a threat to have a few broken-play touchdowns.
Mountains to climb, rivers to cross:
Some new offensive linemen, a first-year starting QB and the loss of D-lineman
Tommy Buchmann
to an Achilles tendon injury for at least half the regular season offsets some of the advantage afforded by opening the season with three straight home games. As well, as Goveia said
in the spring
, "we're going to play a lot of young people." That makes UBC the X factor in a competitive conference.
OFFENCE

Doug Goldsby is the type of athlete whom coaches know has to be get on the field on some capacity. He started safety as a rookie last season and saw nominal action at QB behind now-graduated
Blake Smelser
. His running ability will probably be needed a bit since the T-Birds will have some new blockers.
The changes along the line might be a drag on Ciezki's numbers, but he is the best back in Canada West, bar none, having averaged an eye-popping 9.1 yards per carry last season. That quartet of returning receivers -- Wilson,
Tyler Hamade
,
Alan Pepper
and
Braden Smith
-- each had at least 342 yards last season. Goldsby might not spread the ball around that well right off the hop.
DEFENCE

Buchmann's injury in the East-West Bowl last spring and D-back
Konrad Wasiela
signing with the B.C. Lions will hurt. UBC returns seven starters, including McCuaig, who had a team-best five sacks in '06. Linebacker
Braydon Hobbs
, the 2005 Canada West rookie of the year who had a medical redshirt last season, makes it eight. Stephenson,
Tyler Codron
and
Corey Hamade
are expected to anchor the secondary.
SPECIAL TEAMS

The T-Birds are settled in this area.
Shawn McIsaac
handles all kicking and was a Canada West all-star pick in '06. Return man
Derek Townsend
was also an all-conference pick and is looking to lead the conference in punt return yardage for an unprecedented third straight season. Tyler Hamade can also return kicks.
NEED-TO-KNOW
Call it a Canadian conundrum . The large, academically elite universities in Canada's most prosperous cities -- the U of Alberta in Edmonton, the U of T in Toronto and McGill in Montreal -- haven't done so well on the football field. UBC has been no different, going title-less since its 1997 Vanier Cup, but there's no lack of good players close to home and the school has the wherewithal to recruit outside its own region.
(Goveia said he would go into Saskatchewan for players after last season's playoff loss, but ultimately lost out out two defensive standouts from the junior Saskatoon Hilltops, LB
Thomas Irving
and DE
Bryce Papic
, who each stayed home, in one in junior, one in the CIS. But he's trying.)
Bottom line: The Thunderbirds seem to be building something. There is some youth on the team, which makes it the wild card in Canada West, but a 5-3 record is reasonable.
(Photo courtesy of UBC Athletics -- sincere appreciation to Marc Weber, sports information director.)
That's all for now. Send your thoughts to
neatesager@yahoo.ca
.